Publication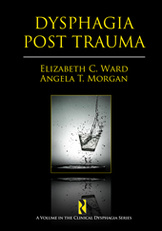 90-Day Exam Copy for Instructors
Dysphagia Post Trauma
Details:

264 pages, Illustrated (B/W), Softcover, 7 x 10"
ISBN13:

978-1-59756-236-2
Release Date:

04/01/2009
Overview
Dysphagia Post Trauma is a premier book in the Clinical Dysphagia Series. The authors are world renown for their research and clinical insights into the often-challenging patterns of dysphagia caused by a variety of traumatic conditions. This book, like all the books in this series, is written with the practicing clinician in mind. Traumatic brain injury and all other traumatic injuries that influence swallowing are described. The emphasis on evaluation and treatment is described so clearly and thoroughly that a clinician can review relevant chapters and then confidently approach the bedside of even the most complicated patient. This is the one critical swallowing book for those clinicians with traumatically injured men, women, and children on their caseloads.
RELATED TITLE
Case Studies in Dysphagia Malpractice Litigation by Dennis Tanner, PhD
Drawing on his experiences as an expert witness in numerous medico-legal cases, Dr. Tanner provides reviews issues that may lead to malpractice litigation.
Click here for more information.
Reviews
Lindsay Lanciault, MA (Doctor's Community Hospital), Doody's Review Service (2010):
"The book excels at providing clear and concise information. The tables outline useful information and are easy to access for quick reference. Several useful diagrams and images also enhance the text. ... This is a valuable addition to the resource library of any SLP who works in an acute care facility, specifically one who works in a tertiary care facility where trauma patients make up the majority of the caseload. It provides relevant information and a highly accessible format."

Alison Davison, Speech and Language Therapy in Practice (2010):
"I thoroughly enjoyed this book, and would highly recommend it for departments with a trauma caseload."

Patrick Bradley, MBA, FRCS, ENT & Audiology News (2010):
"... Well written and easy to read. ... Aimed at speech and language therapists, but should be read by all members of the rehabilitation team involved in the long-term management of trauma patients. A good buy and value for money!"

Catriona M. Steele, PhD, Canadian Journal of Speech-Language Pathology and Audiology (2010):
"Chapter 4 is another highlight on a topic that has received too little attention in our literature: dysphagia following burn injuries. Here, we are treated to Anna Rumbach's superb work in the area. ... The book is written in user-friendly language, with excellent illustrations, and will prove a useful resource to any clinicians working in this area."
Contents
1. Dysphagia assessment and intervention: Basic principles for trauma management
Angela Morgan and Elizabeth Ward
2. Traumatic Brain Injury
Angela Morgan and Elizabeth Ward
3. Traumatic Spinal Cord Injury
Maura Solley and Elizabeth Ward
4. Burn Injury
Anna F. Rumbach, Elizabeth Ward, Cynthia McKinnon DuBose, and Nicola A. Clayton
5. Multitrauma and Iatrogenic Trauma
Jane Crombie, Ann-Louise Spurgin, and Elizabeth Ward
About The Authors
Elizabeth C. Ward, PhD, is an Associate Professor in the Division of Speech Pathology at the University of Queensland, Australia
---
Angela T. Morgan, BSpAud(Hons), Ph.D.


Angela Morgan is currently a research fellow at the Murdoch Childrens Research Institute, Royal Childrens Hospital and University of Melbourne, Melbourne, Australia.