Publication
Disorders of the Auditory System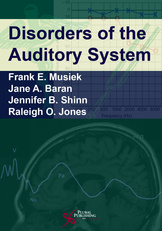 Desk Copy for Instructors
Disorders of the Auditory System
Details:

432 pages, B/W With Color Insert, Hardcover, 7 x 10"
ISBN13:

978-1-59756-350-5
Release Date:

12/15/2011
$134.95
Overview
Disorders of the Auditory System covers both classic as well as new disorders of the auditory system and reflects the combined efforts of renowned audiologists and otologists. Perhaps for the first time, both the audiological and medical aspects of auditory dysfunction associated with disorders of the peripheral and central auditory system will be covered in one text. This book provides numerous insightful case studies that will provide informative reading for professionals in the fields of audiology, otology and neurology.
Foreword by James Jerger
Acknowledgments
1. Introduction
2. Structure and Function of the Auditory and Vestibular Systems
3. Audiologic, Vestibular, and Radiologic Procedures
4. Outer and Middle Ear Disorders
5. Inner Ear Disorders
6. Auditory Nerve Disorders
7. Disorders Affecting the Central Auditory Nervous System
8. Tinnitus, Hyperacusis, and Auditory Hallucinations
9. Hereditary and Congenital Hearing Loss.
Glossary
Index
About The Authors
Frank E. Musiek, PhD, CCC-A, is Professor and Director of the NeuroAudiology Lab, Dept. of Speech Language and Hearing Sciences University of Arizona. He is Professor Emeritus at the University of Connecticut and former Professor and Director of Audiology at the Dartmouth Hitchcock Medical Center.
---
Jane A. Baran, PhD is Professor Emerita in the Department of Communication Disorders at the University of Massachusetts Amherst.
---
Jennifer B. Shinn, PhD, is an Assistant Professor in the Division of Otolaryngology, Department of Surgery at the University of Kentucky. Dr. Shinn is the Chief of Audiology and Resident Research Director.
---
Raleigh Jones, MD is Associate Professor of Surgery and Chief of Otolaryngology—Head and Neck Surgery at the University of Kentucky Medical Center.