Publication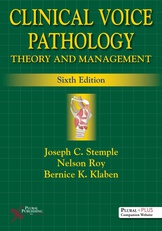 Desk Copy for Instructors
Clinical Voice Pathology
Theory and Management
Sixth Edition
Details:

540 pages, Color Illustrations (4 Color), Softcover, 7 x 10"
Included Media:

Companion Website
ISBN13:

978-1-63550-028-8
Release Date:

12/15/2018
$149.95
Overview
NOW IN FULL COLOR! More than any previous edition, this new book includes major changes to benefit both the student and the instructor!
A classic work, now in its sixth edition, Clinical Voice Pathology: Theory and Management is a compilation of the authors' vast clinical and research experiences and addresses a considerable range of voice disorders in various populations and from various etiologies including medical, environmental, social, psychological, occupational, and idiopathic threats to vocal health. The text continues to be organized for the graduate speech-language pathology student and instructor, building the foundational knowledge necessary to evaluate and treat voice disorders including history and common causes of voice disorders, anatomy and physiology of voice production, pathologies of the vocal mechanism, and an extensive array of evaluation and management approaches. In addition, the text continues to provide background in caring for the professional voice and those patients presenting with head and neck cancers.
New to the Sixth Edition:
A new chapter introducing the SLP's responsibilities with trach and vent patients
Updated references throughout the text to reflect the current state of clinical research in evaluation and treatment of voice disorders
Expanded voice therapy chapter including new evidence-based management approaches
Use of 'Call Out' boxes throughout the text to highlight cases, encourage additional thought, and suggest additional readings
Full color throughout the text including new figures and artwork to enhance learning and understanding of the material
A PluralPlus companion website with additional content including videos of laryngeal pathologies and instructional PowerPoint lectures.

Whether a typical voice user, occupational voice user, elite vocal performer, head and neck cancer patient, or an individual who has lost the ability to communicate competently and confidently due to a detrimental voice change, each patient presents a unique diagnostic dilemma: how best to return the voice to its optimal condition? This text thoroughly prepares the speech-language pathology student to answer this question through a systematic development of the knowledge base necessary to evaluate and manage voice disorders.
With numerous full-color images, multiple case examples, and a companion website of additional instructional material, Clinical Voice Pathology: Theory and Management, Sixth Edition, not only maintains but significantly improves on the standards set by its previous editions as the primary text for a graduate level course in clinical voice disorders.
Preface
Contributors
Chapter 1. Voice: A Historical Perspective
Introduction
Ancient History
The Renaissance
The 17th to 19th Centuries
The Laryngeal Mirror
Further Advancements
Voice Therapy
Clinical Voice Pathology
Summary and Concluding Remarks
References
Chapter 2. Anatomy and Physiology
Anatomy
Vocal Tract Resonance
Structural Support for the Larynx
Muscles
True Folds, Ventricular (False) Folds, and Ventricle
Vocal Fold Microstructure
Blood Supply and Secretions
Neurologic Supply
Laryngeal Reflexes
Developmental Changes
Geriatric Vocal Folds
DNA Microarray Gene Expression Analysis
Physiology of Phonation
Summary
References
Chapter 3. Etiologies of Voice Disorders
Etiologies of Phonotrauma
Medically Related Etiologies
Primary Disorder Etiologies
Personality-Related Etiologies
Summary
References
Chapter 4. Pathologies of the Laryngeal Mechanism
Prevalence of Voice Disorders
Pathology Classifications
Summary
References
Chapter 5. The Diagnostic Voice Evaluation
The Management Team
Patient Profile
Referral Sources
Medical Evaluation
Voice Pathology Evaluation
Diagnostic Voice Evaluation
Summary
References
Appendix 5-A. Sample Report
Appendix 5-B. Consensus Auditory-Perceptual Evaluation of Voice (CAPE-V)
Appendix 5-C. The Rainbow Passage
Appendix 5-D. Vocal Component Checklist
Appendix 5-E. Voice Handicap Index (VHI)
Chapter 6. Instrumental Measurement of Voice
Clinical Utility
Basics of Technical Instruments
Microphones and Recording Environment
Digital Signal Processing
Acoustic Measures
Aerodynamic Measures
Laryngeal Imaging
Electroglottography (EGG)
Laryngeal Electromyography (LEMG)
Normative Information
Electrical Safety
Hygienic Safety
The Clinical Voice Laboratory
Caveats and Additional Considerations
Glossary
References
Appendix 6-A. Joint Statement: ASHA and AAO-HNS
Appendix 6-B. Vocal Tract Visualization and Imaging: Position Statement
Chapter 7. Survey of Voice Management
Voice Therapy Orientations
Hygienic Voice Therapy
Symptomatic Voice Therapy
Psychogenic Voice Therapy
Physiologic Voice Therapy
Team Management of Specific Laryngeal Pathologies
Successful Voice Therapy
References
Appendix 7-A. Phrases and Sentences Graduated in Length
Chapter 8. The Professional Voice
Overview
The Professional Voice User
History
The "At-Risk" Status
Professional Roles
Clinical Pathways
Categories of Singers
Vocal Registers
Common Etiology Factor
Common Pathologies
Clinical Assessment of the Vocal Performer
Supportive Training and Techniques
Summary
Glossary of Terms Used in Singing
References
Chapter 9. Rehabilitation of the Laryngectomized Patient
Overview
Incidence of Laryngeal Cancer
Etiology
Symptoms of Laryngeal Cancer
Medical Evaluation
Staging and Tumor-Node-Metastasis Classifications
Lymph Node Distribution
Treatment Options
Methods of Reconstruction
Need for Follow-up Treatment
Multidisciplinary Rehabilitation Team
Special Concerns of the Laryngectomized Patient
Speech Rehabilitation
Role of the Speech-Language Pathologist and Surgical Prosthetics
Summary
Helpful Websites on Head and Neck Cancers
References
Chapter 10. Artificial Airway and Mechanical Ventilation
Introduction
Artificial Airway
Tracheotomy
Mechanical Ventilation
Summary
References
Index
About The Authors
Joseph C. Stemple, PhD, CCC-SLP, ASHAF, is Professor of Communication Sciences and Disorders, College of Health Sciences, University of Kentucky where he specializes in the study of voice production and disorders. Current research interests include the biology of laryngeal muscles during exercise; the aging voice; and identifying the active ingredients of evidence-based voice therapy programs. Dr. Stemple is an active national and international speaker and lecturer. He is a Fellow and Honors recipient of the American Speech-Language-Hearing Association.
---
Nelson Roy, PhD, CCC-SLP, ASHAF, is a professor of speech-language pathology in the Department of Communication Sciences and Disorders at The University of Utah, where he specializes in the study of the voice and its disorders. Dr. Roy has published extensively on the topic of voice disorders including epidemiology, psychological/personality factors, treatment outcomes, differential diagnosis, acoustics, and the direct and indirect economic costs of disordered voice. Dr. Roy is a Fellow of the American Speech-Language-Hearing Association.
---
Bernice K. Klaben, PhD, CCC-SLP, BCS-S, is an associate professor in the Department of Otolaryngology-Head and Neck Surgery at the University of Cincinnati Medical Center (UCMC) / UC Voice and Swallowing Center. She is an Adjunct Instructor in the College of Allied Health Sciences in the Communication Science Department at the University of Cincinnati. Her specialty is in the areas of voice, dysphagia, and head and neck cancer at the University of Cincinnati Voice and Swallowing Center providing full assessments and rehabilitation. Dr. Klaben is board certified in swallowing and swallowing disorders. She was awarded a Senior Representative Fulbright Scholarship to Bulgari and has given numerous presentations and seminars in the areas of voice and swallowing and served as mentor to many students in the field of medical speech pathology.

Purchasers of this book receive complimentary access to supplementary materials hosted on a PluralPlus companion website.

To access the materials, log in to the website using the URL located inside the front cover of your copy of Clinical Voice Pathology, Sixth Edition.

STUDENTS:
To access the student materials, you must register on the companion website and log in using the access code located inside the front cover of your textbook.

INSTRUCTORS:
To access the instructor materials, you must contact Plural Publishing, Inc. to be verified as an instructor and receive your access code.

Email: information@pluralpublishing.com
Tel: 866-758-7251 (toll free) or 858-492-1555