Publication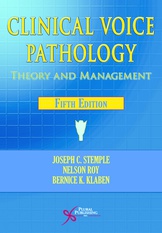 Desk Copy for Instructors
Clinical Voice Pathology
Theory and Management
Fifth Edition
Details:

468 pages, B/W With Color Insert, Softcover, 7 x 10"
Illustrations:

115
ISBN13:

978-1-59756-556-1
Release Date:

01/28/2014
$134.95
Overview
THE SIXTH EDITION WILL BE AVAILABLE IN DECEMBER 2018. CLICK HERE FOR MORE INFORMATION.
Clinical Voice Pathology: Theory and Management, Fifth Edition, is a compilation of the authors' many years of experience in a multitude of settings and addresses a considerable range of voice disorders in various populations and from various etiologies including medical, environmental, social, psychological, occupational, and even idiopathic threats to vocal health. The addition of world-renowned coauthor, Nelson Roy, brings this fifth edition even more valuable experience in clinical voice disorders research.
Whether a typical voice user, occupational voice user, elite vocal performer, head and neck cancer client, or an individual who has lost the ability to communicate competently and confidently due to a detrimental voice change, each patient presents a unique diagnostic dilemma: how best to return the voice to its optimal condition? This text thoroughly answers this question through explaining and illustrating the knowledge necessary to treat and manage voice disorders.
Key features to the fifth edition:
Provides the history and common causes of voice disorders, introducing the interdisciplinary background essential to successful voice therapy and treatment planning
Details the anatomy and physiology of voice production to aid in identification and evaluation measures
Reviews criteria for a comprehensive voice assessment, such as high speed digital imaging and videokymography tools, as well as several voice therapy approaches, including hygienic, symptomatic, psychogenic, physiologic, and eclectic treatments
Highlights current clinical evidence that either supports or refutes popular voice therapy treatments for conditions such as papilloma, mutational falsetto, and transgendered voice
Presents the pathologies of the laryngeal mechanism, organized according to ASHA's Classification Manual for Voice Disorders
Provides guidance for management and rehabilitation of the laryngectomized patient, outlining the complementary roles of the interdisciplinary treatment team to manage multiple treatment goals

With numerous pieces of artwork, full color inserts, and case examples, Clinical Voice Pathology, Fifth Edition, not only maintains but also significantly improves on the standards set by its previous editions.
Reviews
Janet Baker L.A.C.S.T. MSc PhD, Speech Pathologist and Family Therapist Clinical Consultant in Voice and Counselling Supervision of Professional Practice, Adjunct Associate Professor, Speech Pathology, Flinders University, Speech Language and Hearing (September 2014):
"Clinical Voice Pathology: Theory and Management, is the 5th edition of this well-known textbook, with new input from co-author, Nelson Roy. It is intended pri-marily for speech-language pathologists, and it is written in a way that makes it readily accessible to students and academics in undergraduate and postgraduate speech pathology programs, and to practitioners in the field. ...



In addition to the subjective and instrumental approaches involved in the comprehensive assessment procedures and differential diagnosis, there are helpful examples of the kinds of questions that a clinician may ask, and ways in which practitioners may explain their rationale for probing further. Case examples are included to illustrate how management might proceed following different diagnoses, and it is excellent to see chapters devoted to the professional voice and laryngectomy. ...



The strength of this new edition is that it provides a sound overview of foundation knowledge and practices involved in the specialty of voice pathology, and a strong focus on the crucial contribution of the speech-language pathologist. It is written in a style that is consistent throughout, easy to understand, and engaging in its emphasis on empirical evidence and clinical practice. The authors refer to the importance of the clinician-scientist, and the book reflects the work of three master clinicians who have generously shared their integrated knowledge from their extensive experience in teaching, research, and clinical practice.
"

Doody's (May 2018):
"Named to Doody's Core Titles in the Health Sciences - Speech, Language & Hearing 2018 list."

Dawn Sadoway, St. Thomas University, New Brunswick, Canada, Voice and Speech Review (October 30, 2014):
"This text is successful in giving a broad overview of the world of clinical voice pathology with clear descriptions of some of the most common voice disorders and why they may exist. . . . Already established as a text for clinical practice, this new edition continues to serve this population well. However, because the writing is so clear and accessible, Clinical Voice Pathology is a text that belongs on any voice practitioner or pedagogue's shelf. My own copy is already well thumbed and I have been drawn to it for concise scientific descriptors of anatomy, physiology and voice pathologies. The artwork in this edition is entirely new and there are also full color inserts, charts and case samples. All of these supporting visual materials and case studies are accessible and relevant to both the scientist and the artist making it an excellent reference for all voice practitioners, pedagogues and clinicians."
Preface

1. Voice: A Historical Perspective

Ancient History
The Renaissance
The 17th to 19th Centuries
The Laryngeal Mirror
Further Advancements
Voice Therapy
Clinical Voice Pathology
References
2. Anatomy and Physiology

Anatomy

The Laryngeal Valve
Respiration for Phonation

Vocal Tract Resonance
Structural Support for the Larynx

Hyoid Bone
Laryngeal Cartilages

Muscles

Muscles for Respiration: Inspiration and Exhalation
Laryngeal Muscles

True Folds, Ventricular (False) Folds, and Ventricle
Vocal Fold Microstructure

Epithelium
Basement Membrane Zone
Lamina Propria
Vocal Muscle

Blood Supply and Secretions
Neurologicl Supply

Central Nervous System Control
Peripheral Innervation

Laryngeal Reflexes
Developmental Changes
Geriatric Vocal Folds
DNA Mircoarray Gene Expression Analysis
Physiology of Phonation

Theories of Vibration
Fundamental Frequency Control
Intensity Control
Phonation Modes and Voice Quality Control

Summary
References
3. Some Etiologic Correlates

Etiologies of Vocal Misuse

Phonotrauma
Inappropriate Vocal Components

Medically Related Etiologies

Direct Surgery
Indirect Surgery
Chronic Illnesses and Disorders

Primary Disorder Etiologies
Personality-Related Etiologies

Environmental Stress
Identify Conflict

Summary
References
4. Pathologies of the Laryngeal Mechanism

Prevalence of Voice Disorders
Pathology Classifications

Structural Pathologies of the Vocal Fold
Congenital and Maturational Changes Affecting Voice
Inflammatory Conditions of the Larynx
Trauma or Injury of the Larynx
Systematic Condition Affecting Voice
Allergies
Nonlaryngeal Aerodigestive Disorders Affecting Voice
Psychiatric and Psychological Disorders Affecting Voice
Neurological Disorders Affecting Voice
Movement Disorders Affecting the Larynx
Central Neurological Disorders Affecting the Voice
Other Disorders of Voice Use

Summary
References
5. The Diagnostic Voice Evaluation

The Management Team
Patient Profile
Referral Sources
Medical Evaluation
Voice Pathology Evaluation
Diagnostic Voice Evaluation

Referral
Reason for the Referral
History of the Problem
Oral-Peripheral Examination
Auditory-Perceptual Voice Assessment
Patient Self-Analysis of the Voice Disorder
Impressions
Prognosis
Recommendations
Additional Considerations

Summary
References
Appendix 5-A. Sample Report
Appendix 5-B. Consensus Auditory-Perceptual Evaluation of Voice (CAPE-V)
Appendix 5-C. The Rainbow Passage
Appendix 5-D. Vocal Component Checklist
Appendix 5-E. Voice Handicap Index (VHI)
6. Instrumental Measurement of Voice

Introduction to Instrumentation in Voice Assessment
Clinical Utility
Basics of Technical Instruments
Microphones and Recording Environment
Digital Signal Processing
Acoustic Measurements

Pitch Detection Algorithm
Fundamental Frequency
Intensity
Voice Range Profile, Phonetogram, and Physiologic Frequency Range of Phonation
Perturbation Measures
Signal (or Harmonic)-to-Noise Ratios
Spectral Analysis
Cepstral Spectral Index of Dysphonia (CSID)

Aerodynamic Measures

Calibration
Pressure, Flow, Resistance, and Ohm's Law
Airflow Equipment
Flow Measurement
Subglottal Air Pressure Measurement
Phonation Threshold Pressure
Laryngeal Resistance
Inverse Filter

Laryngeal Imaging

Endoscopy
Stroboscopy
High-Speed Digital Imaging
Kymography
Criteria for Laryngeal Imaging
Recording Protocol
Visual Perceptual Judgements

Electroglottography (EGG)
Laryngeal Electromyography (LEMG)
Normative Information
Electrical Safety
Hygienic Safety
The Clinical Voice Laboratory
Glossary
References
Appendix 6-A. Joint Statement: ASHA and AAO-HNS
Appendix 6-B. Vocal Tract Visualization and Imaging: Position Statement
7. Survey of Voice Management

Voice Therapy Orientations

Hygienic Voice Therapy
Symptomatic Voice Therapy
Psychogenic Voice Therapy
Physiologic Voice Therapy
Eclectic Voice Therapy
Case Study 1

Hygienic Voice Therapy

Treatment Strategies for Vocally Traumatic Behavior
Vocal Hygiene Therapy Approaches
Case Study 2: The Homemaker
Case Study 3: The Noisy Job Environment
Case Study 4: The Public Speaker
Case Study 5: Phonotrauma in Children
Case Study 6: Can We Always Expect Success?
Hydration
Confidential Voice

Symptomatic Voice Therapy

Therapy Approaches for Respiration
Therapy Approaches for Phonation
Therapy Approaches for Resonance
Therapy Approaches for Pitch
Therapy Approaches for Gender Reassignment Voice Change
Therapy Approaches for Loudness Modification
Therapy Approaches for Rate Modification
Therapy Approaches for Laryngeal Area Muscle Tension

Psychogenic Voice Therapy

Functional Aphonia/Dysphonia
Functional Falsetto
Vocal Chord Dysfunction (VCD)

Physiologic Voice Therapy

Case Study 11: Laryngeal Muscle Imbalance
Case Study 12: The Postsurgical Patient
Case Study 13: Presbyphonia
Vocal Function Exercises
Resonant Voice Therapy
Accent Method of Voice Therapy
Lee Silverman Voice Treatment

Team Management of Specific Laryngeal Pathologies

Vocal Fold Cover Lesions
Laryngopharyngeal Reflux and Gastroesophageal Reflux Disease
Unilateral Vocal Fold Paralysis
Case Study 14: Unilateral Vocal Fold Paralysis
Spasmodic Dysphonia

Successful Voice Therapy
Refernces
Appendix 7-A. Phrases and Sentences Graduated in Length

Paragraph Readings
Poetry Readings
8. The Professional Voice

Overview
The Professional Voice User
History
The "At-Risk" Status
Professional Roles

The Otolaryngoloist
The Voice Pathologist
The Produces
The Agent or Manager

Clinical Pathways

Otolaryngology-Voice Pathology-Voice Pedagogy
Voice Pedagogy-Otolaryngoloist-Voice Pathology
Voice Pedagogy-Voice Pathology-Otolaryngology
Otolaryngology-Voice Pedagogy
Voice Pathologist-Voice Pedagogy
Vocal Types and Vocal Range

Categories of Singers
Vocal Registers
Common Etiologic Factors

Personality Factors
Phonotrauma
Drugs
Hydration

Common Pathologies

Acute and Chronic Noninfectious Laryngitis
Vocal Nodules
Contact Ulcers and Granulomas
Gastroesophageal Reflux Disease/Laryngopharyngeal Reflux
Voice Fatigue
Vocal Fold Hemorrhage and Vascular Pathologies

Clinical Assessment of the Vocal Performer
Supportive Training and Techniques

Alexander Technique
The Linklater Method
The Feldenkrais Method
The Lessac System
Estill Voice Training

Summary
Glossary of Terms Used in Singing
References
9. Rehabilitation of the Laryngectomized Patient

Overview
Incidence of Laryngeal Cancer
Etiology
Symptoms of Laryngeal Cancer
Medical Evaluation
Staging and Tumor-Node-Metastasis Classification
Lymph Node Distribution
Treatment Options

Conservation
Combined Treatments
Radiation Therapy
Surgery
Concurrent Chemoradiotherapy

Methods of Reconstruction
Needs for Follow-Up Treatment

Multidisciplinary Rehabilitation Team

Special Concerns of the Laryngectomized Patient

Communication
Physical Concerns
Psychosocial Concerns

Speech Rehabilitation

Artificial Larynges
Esophageal Speech
Surgical Prothetics

Role of the Speech-Language Pathologist and Surgical Prothetics

Patient Evaluation
Patient Fitting
Independent Care
Maximizing Communication
Hands-Free Speaking Valve

Summary
Helpful Websites on Head and Neck Cancers
Refernces

Index
About The Authors
Joseph C. Stemple, PhD, CCC-SLP, ASHAF, is professor of Communication Sciences and Disorders, College of Health Sciences, University of Kentucky where he specializes in the study of voice production and disorders. Current research interests include the biology of laryngeal muscles during exercise; the aging voice; and identifying the active ingredients of evidence-based voice therapy programs. Dr. Stemple is an active national and international speaker and lecturer. He is a Fellow and Honors recipient of the American Speech-Language-Hearing Association.
---
Nelson Roy, PhD, CCC-SLP, ASHAF, is a professor of speech-language pathology in the Department of Communication Sciences and Disorders at The University of Utah, where he specializes in the study of the voice and its disorders. Dr. Roy has published extensively on the topic of voice disorders including epidemiology, psychological/personality factors, treatment outcomes, differential diagnosis, acoustics, and the direct and indirect economic costs of disordered voice. Dr. Roy is a Fellow of the American Speech-Language-Hearing Association.
---
Bernice K. Klaben, PhD, CCC-SLP, BCS-S, is an associate professor in the Department of Otolaryngology-Head and Neck Surgery at the University of Cincinnati Medical Center (UCMC) / UC Voice and Swallowing Center. She is an Adjunct Instructor in the College of Allied Health Sciences in the Communication Science Department at the University of Cincinnati. Her specialty is in the areas of voice, dysphagia, and head and neck cancer at the University of Cincinnati Voice and Swallowing Center providing full assessments and rehabilitation. Dr. Klaben is board certified in swallowing and swallowing disorders. She was awarded a Senior Representative Fulbright Scholarship to Bulgari and has given numerous presentations and seminars in the areas of voice and swallowing and served as mentor to many students in the field of medical speech pathology.