Publication
Home|
Clinical Voice Pathology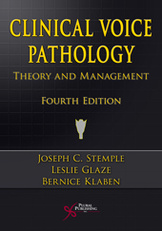 Instructors: click here to request your Desk Copy of this book.
11/01/2009
Clinical Voice Pathology

Theory and Management
4th Edition
Joseph Stemple, PhD, Leslie Glaze, PhD, CCC-S, Bernice Klaben, PhD, CCC-SLP, BRS-S
Details
426 pages, B/W With Color Insert, Softcover, 7 x 10"
ISBN10: 1-59756-348-X
ISBN13: 978-1-59756-348-2
$120
Overview
A classic work, now in its fourth edition, Clinical Voice Pathology is a distillation of the authors' many years of experience gained in a multitude of settings, across a huge range of disorders in populations through the life spectrum, and represents etiologies arising from medical, environmental, social, psychological, occupational, and even idiopathic threats to vocal health.
Whether typical voice user, occupational voice user, elite vocal performer, head and neck cancer client, or anyone who has lost the ability to communicate competently and confidently due to detrimental voice change, each patient presents a unique diagnostic dilemma: how best to return the voice to optimal condition?
In answering this question, the authors assert that voice pathologists must apply knowledge of anatomy and physiology, etiologic correlates, laryngeal pathologies, and differential diagnosis to conduct an accurate evaluation. Traditional clinical management requires well-developed skills in the interpersonal interview, behavioral observation and modification, and task selection and elicitation. The contemporary voice assessment no longer relies solely on audio-perceptual voice quality judgments, but also demands technical expertise in using voice laboratory instruments for acoustic analysis, aerodynamic measures, and laryngeal imaging to help inform the management plan. Finally, we can only succeed when we have educated our patients to understand and self-monitor voice production behaviors independently and accurately.
Thus, this book organizes, explains, and illustrates the comprehensive hierarchy of knowledge necessary to manage voice disorders by:
• Opening with an entertaining history of voice disorders from its ancient foundations to the present, so clarifying the role of speech-language pathologists in the care of voice disordered patients, and introducing the interdisciplinary background that has proved essential in attaining success in voice therapy.
• Detailing the anatomy and physiology of voice production to provide an understanding of the structure and function of the laryngeal mechanism as an essential basis for evaluating phonatory function, examining the larynx and vocal folds, and recognizing the impact of abnormal changes or adaptations on voice production.
• Providing a thorough update on the etiologies of voice disorders (including misuse, medically-related factors, primary disorders, and personality-related influences) by discussing the common factors associated with the cause and maintenance of voice disorders in order to understand best options for treatment planning.
• Presenting the pathologies of the laryngeal mechanism, organized according to ASHA's Classification Manual for Voice Disorders-I in eight major groups: Structural pathologies; Inflammatory conditions; Trauma or injury; Systemic conditions affecting voice; Aerodigestive conditions affecting voice; Psychiatric or psychological disorders affecting voice; Neurologic voice disorders; Other disorders of voice. The text illustrates many of the pathologies with color plates.
• Discussing the objectives and procedures of a systematic diagnostic voice evaluation, introducing traditional evaluation techniques, including the patient interview, audio-perceptual judgments, patient self-assessment, determining the cause(s) and maintaining factor(s) of the voice disorder, and educating the patient about these findings to establish a collaborative management plan based on these clinical data.
• Reviewing the instrumental measures that comprise a comprehensive voice assessment, including the scientific principles that underlie their development, application, and interpretation. In addition to standard measures of acoustics, aerodynamics, electromyography, and stroboscopy, this edition explains the utility of high speed digital imaging and videokymography tools. The appendix includes instrumental measurement norms and a helpful glossary of terms.
• Exploring an array of voice therapy approaches following the orientations of hygienic, symptomatic, psychogenic, physiologic, and eclectic treatments.
• Using frequent case examples to illustrate major insights about voice treatment gathered from the authors' thirty-plus years of clinical experience, and orienting the reader to the theories, selection criteria, and clinical methods for specific voice management principles.
• Delivering a treatment framework that is appropriate for common, yet diverse complaints due to nodules, laryngopharyngeal reflux, paralysis, and vocal fold dysfunction, as well as infrequent disorders such as papilloma, mutational falsetto, and transgendered voice.
• Highlighting the current clinical evidence that either supports or refutes popular treatments used in voice therapy.
• Introducing the factors that influence clinical management approaches for the performing voice, such as personality, temperament, performance routines and schedule, and other special considerations needed for care and treatment, as well as defining the roles of a necessarily expanded interdisciplinary team, and identifying the affiliate organizations that represent and support voice performers. In addition to traditional voice therapy considerations, non-traditional alternative treatments that are popular with this population are also considered.
• Providing what is effectively a stand-alone manual on the management and rehabilitation of the laryngectomized patient, reflecting the current 'best practice' in voice rehabilitation or restoration in head and neck cancer patients, and outlining the complementary roles of the interdisciplinary treatment team as a means to understanding the multiple management goals: cure the disease, select optimal communication methods, ensure safe swallowing, and address any associated physical, social, and emotional changes that affect each patient
Packed with a vast amount of entirely new artwork, redrawn and historical images, full color illustrations, replete with case examples, multimedia images of pathologies, and fully revised and updated, Clinical Voice Pathology maintains and improves on the standards set by its predecessors and is set to enjoy the same worldwide adulation.
In the authors' words "Over the past four decades, our chosen specialty of clinical voice pathology has expanded greatly within the field of communication disorders. Nonetheless, this fourth edition of our text retains its original purpose: to provide students and clinicians with a strong foundation of basic voice science infused with a deep clinical understanding of the best methods for assessing and treating voice disorders. As we prepared this edition, we challenged ourselves to revise every chapter thoroughly, by referencing the latest relevant published research, infusing clinical treatment evidence, and sharing lessons learned from our ever-broadening experience, whenever possible. The effort was both illuminating and rewarding. Consequently, we hope that you, the reader, will find this text clear, informative, and a worthwhile addition to your professional library."
Reviews
Thomas Murry, PhD, (2009):
"This book brings together the science of voice assessment and the art of voice therapy in a superbly written text...(A) necessary resource in understanding normal and abnormal vocal function, diagnosing voice disorders, and treating the patient using a comprehensive plan of therapy."

Adrienne B. Hancock, PhD (George Washington University), Doody's Review Service, (2010):
"I am glad to have this book on my shelf. I have referred my students to the treatment descriptions in this book because they are so clearly written and include a rationale for when each technique would be used in the description."

#, Doody's, (2013):
""Named to Doody's Core Titles in the Health Sciences 2013 list""
Audience
Primary Subject:
Voice
Secondary Subject:
Speech and Language Pathology / Voice and Voice Therapy
Audience Level:
Textbook - Desk Copy
Chapter 1: Voice: A Historical Perspective

Ancient History
The Renaissance
The 17th to 19th Centuries
The Laryngeal Mirror
Further Advancements
Voice Therapy
Clinical Voice Pathology
References

Chapter 2: Anatomy and Physiology

Anatomy
The Laryngeal Valve
Respiration and Phonation
Vocal Tract Resonance
Structural Support of the Larynx
Hyoid bone
Laryngeal cartilages
Muscles
Muscles for Respiration: Inspiration and Exhalation
Laryngeal Muscles
Extrinsic Laryngeal Muscles
Intrinsic Laryngeal Muscles
Vocal Fold Microstructure
Epithelium
Basement Membrane Zone
Lamina Propria
Connective Tissue
Vocal Muscle
Blood Supply and Secretions
Neurologic Supply
Central Nervous System Control
Peripheral Innervation
Laryngeal Reflexes
Developmental Changes
Geriatric Vocal Folds
DNA Microarray Gene Expression Analysis
Physiology of Phonation
Theories of Vibration
Fundamental Frequency Control
Intensity Control
Phonation Modes and Voice Quality Control
References

Chapter 3: Some Etiologic Correlates

Etiologies of Vocal Misuse
Voice abuse
Inappropriate vocal properties
Medically-Related Etiologies
Direct surgeries
Indirect surgeries
Chronic illnesses/disorders
Primary Disorder Etiologies
Personality-Related Disorders
References

Chapter 4: Pathologies of the Laryngeal Mechanism

Incidence of Voice Disorders
Pathology Classifications
Structural Pathologies of the Vocal Fold
Malignant Epithelial Dysplasia of the Larynx
Benign Epithelial and Lamina Propria Abnormalities of the Vocal Fold
Vocal nodules
Vocal fold polyps
Vocal fold cysts
Reactive vocal fold lesion
Reinke's edema and Polypoid degeneration
Vocal fold scarring
Vocal fold sulcus/Sulcus vocalis
Vocal fold granuloma and Contact ulcer
Keratosis, Leukoplakia, and Erythroplasia
Recurrent Respiratory Papilloma (RRP)
Subglottic and Laryngeal/Glottic Stenosis and Acquired Anterior Glottic Web
Vascular Lesions: Vocal Fold Hemorrhage, Hematoma, Varix and Ectasia
Congenital and Maturational Changes Affecting Voice
Congenital Webs (Synechia)
Laryngomalacia
Puberphonia: Mutational Falsetto and Juvenile Voice
Presbyphonia or Presbylaryngeus
Inflammatory Conditions of the Larynx
Cricoarytenoid and Cricothyroid Arthritis
Acute Laryngitis
Laryngopharyngeal Reflux
Chemical Sensitivity / Irritable Larynx Syndrome
Trauma or injury
Internal Laryngeal Trauma: Thermal & Chemical Exposure; Intubation/Extubation Injury
External Trauma and Arytenoid Dislocation
Systemic conditions affecting voice
Endocrine disorders
Hypothyroidism & Hyperthyroidism
Sexual Hormonal Imbalances
Growth Hormone Abnormalities (Hyperpituitarism)
Immunologic disorders
Systemic Lupus Erythematosus (SLE)
Sjogren's Syndrome
Scleroderma
Fibromyalgia
Allergies
Non-Laryngeal Aerodigestive Disorders Affecting Voice
Respiratory Diseases
Asthma & Chronic Obstructive Pulmonary Disease
Gastroesophageal Reflux Disease (GERD)
Infectious Diseases of the Aerodigestive Tract
Laryngotracheobronchitis (Croup)
Mycotic (Fungal) Infections: Candida
Psychiatric or psychological disorders affecting voice
Psychogenic Conversion Aphonia and Dysphonia
Factitious Disorders or Malingering
Gender Dysphoria or Gender Reassignment
Neurologic voice disorders
Peripheral Nervous System Pathology
Superior Laryngeal Nerve Paralysis: Unilateral or Bilateral
Recurrent Laryngeal Nerve Paralysis: Unilateral
Recurrent Laryngeal Nerve Paralysis: Bilateral
Superior Laryngeal Nerve (SLN) or Recurrent Laryngeal Nerve (RLN) Paresis
Myasthenia Gravis
Movement disorders affecting the voice
Spasmodic Dysphonia
Adductor Spasmodic Dysphonia (ADSD)
Abductor Spasmodic Dysphonia (ABSD)
Mixed Adductor and Abductor Spasmodic Dysphonia
Essential Vocal Tremor
Central Neurological Disorders Affecting Voice
Amyotrophic Lateral Sclerosis
Parkinson Disease
Multiple Sclerosis
Huntington's Chorea
Other disorders of voice
Vocal Abuse, Misuse, and Phonotrauma
Vocal Fatigue
Muscle Tension Dysphonia (Primary and Secondary)
Ventricular Phonation (Plica Ventricularis)
Paradoxical Vocal Fold Motion (Vocal Cord Dysfunction) or Episodic Dyspnea
References

Chapter 5: The Diagnostic Voice Evaluation

The Players
Patient Profile
Referral Sources
Medical Examination
Voice Pathology Evaluation
Diagnostic Voice Evaluation
Referral
Reason for the referral
History of the problem
Medical history
Social history
Oral-peripheral examination
Auditory perceptual voice assessment
Impressions
Prognosis
Recommendations
Patient self-analysis of the voice disorder
References
Appendix 5.1 Sample Report
Appendix 5.2 Consensus Auditory Perceptual Evaluation of Voice
Appendix 5.3 The Rainbow Passage
Appendix 5.4 Vocal Component Checklist
Appendix 5.5 Voice Handicap Index

Chapter 6: Instrumental Measurement of Voice

Clinical Utility
Basics of Technical Instruments
Microphones and Recording Environment
Digital Signal Processing
Acoustic Measurements
Pitch Detection Algorithm
Fundamental Frequency
Intensity
Voice Range Profile, Phonetogram, and Physiological Frequency Range of Phonation
Perturbation Measures
Signal (or Harmonic)-to-Noise Ratios
Spectral Analysis
Aerodynamic Measurements
Calibration
Pressure, Flow, Resistance and Ohm's Law
Airflow Equipment
Flow Measurement
Subglottal Air Pressure Measurement
Phonation Threshold Pressure
Laryngeal Resistance
Inverse Filter
Laryngeal Imaging
Endoscopy
Stroboscopy
High Speed Digital Imaging
Kymography
Criteria for Laryngeal Imaging
Endoscopic Imaging Techniques
Rigid Scope
Flexible endoscope
Patient Comfort
Recording Protocol
Visual Perceptual Judgments
Structural appearance of the entire larynx
Glottic closure pattern
Supraglottic hyperfunction
Mucosal wave
Amplitude
Symmetry
Periodicity
Electroglottography (EGG)
Laryngeal Electromyography (LEMG)
Normative Information
Electrical Safety
Hygienic Safety
The Clinical Voice Laboratory
Glossary
References
Appendix 6.1 Joint Statement: ASHA and AAO-HNS
Appendix 6.2 Vocal Tract Visualization and Imaging: Position Statement

Chapter 7: Survey of Voice Management

Voice Therapy Orientations
Hygienic Voice Therapy
Evidence
Symptomatic Voice Therapy
Evidence
Psychogenic Voice Therapy
Evidence
Physiologic Voice Therapy
Evidence
Eclectic Voice Therapy
Case Study Illustrating Voice Therapy Orientations
Hygienic Voice Therapy
Treatment Strategies for Voice Abuse and Misuse
Vocal Hygiene Therapy Approaches
The Homemaker
The Noisy Job Environment
The Public Speaker
Voice Abuse or Misuse in Children
Can We Always Expect Success?
Hydration
Confidential Voice
Symptomatic Voice Therapy
Therapy Approaches for Respiration
Therapy Approaches for Phonation
Therapy Approaches for Resonance
Therapy Approaches for Pitch
Therapy Approaches for Loudness
Therapy Approaches for Rate
Treatment Approaches for Laryngeal Area Muscle Tension
Psychogenic Voice Therapy
Functional Aphonia/Dysphonia
Functional Falsetto
Vocal Cord Dysfunction (VCD)
Physiologic Voice Therapy
Laryngeal Muscle Imbalance
The Post-Surgical Patient
The Geriatric Voice
Vocal Function Exercises (VFE)
Resonant Voice Therapy (RVT)
Accent Method of Voice Therapy
Lee Silverman Voice Treatment (LSVT)
Team Management of Specific Laryngeal Pathologies
Vocal Fold Cover Lesions
Laryngopharyngeal Reflux (LPR) and Gastroesophageal Reflux Disease (GERD)
Unilateral Vocal Fold Paralysis
Spasmodic Dysphonia
Successful Voice Therapy
References
Appendix 7-1. Phrases and Sentences Graduated In Length

Chapter 8: The Professional Voice

The Professional Voice User
History
The "At-Risk" Status
Professional Roles
The Otolaryngologist
The Voice Pathologist
The Producer
The Agent of Manager
Clinical Pathways
Otolaryngology-Voice Pathology-Voice Pedagogy
Voice Pedagogy-Otolaryngologist-Voice Pathology
Voice Pedagogy-Voice Pathology-Otolaryngology
Otolaryngology-Voice Pedagogy
Voice Pathologist-Voice Pedagogy
Common Etiologic Factors
Personality Factors
Phonotrauma
Drugs
Hydration
Common Pathologies
Acute and Chronic Non-infectious Laryngitis
Vocal Nodules
Contact Ulcers and Granulomas
Gastroesophageal Reflux Disease (GERD)/Laryngoesophageal Reflux (LPR)
Voice Fatigue
Vocal Fold Hemorrhage and Vascular Pathologies
Supportive Training and Techniques
Alexander Technique
The Linklater Method
The Feldenkrais Method
The Lessac System
Estill Voice Training™
Summary
Glossary of Terms
References

Chapter 9: Rehabilitation of the Laryngectomized Patient

Incidence of Laryngeal Cancer
Etiology
Symptoms of Laryngeal Cancer
Medical Evaluation
Staging and TNM Classification
Lymph Node Distribution
Treatment Options
Conservation
Combined Treatments
Radiation Therapy
Surgery
Concurrent Chemoradiotherapy
Methods of Reconstruction
Myocutaneous Flaps
Free Flaps
Jejunal Free Flap
Gastric Pull-Up
Need for Follow-Up Treatment
Multidisciplinary Rehabilitation Team
Head and Neck Surgeon
Plastic and Reconstructive Surgeon
Radiation Oncologist
Medical Oncologist
Speech-Language Pathologist
Oncology Nurse
Dietician
Radiologist
Physical Therapist
Dentist and/or Prosthodontist
Psychologist
Audiologist
The Laryngectomized Visitor
Special Concerns of the Laryngectomized Patient
Communication
Physical Concerns
Respiration
Coughing and Sneezing
Tracheal Tubes and Tracheostoma Vents
Swallowing
Smell and Taste
Safety
Lifting
Psycho-Social Concerns
Speech Rehabilitation
Artificial larynx
Esophageal speech
Surgical prosthetics
Helpful Web Sites on Head and Neck Cancers
References
About The Authors
Dr. Stemple is a Professor of Communication Sciences and Disorders in the College of Health Sciences at the University of Kentucky.
---
Leslie Glaze is a speech-language pathologist specializing in voice disorders, cleft palate, and alaryngeal speech. She is an Adjunct Assistant Professor and Instructor in the Department of Speech-Language-Hearing Sciences at the University of Minnesota in Minneapolis, Minnesota, where she was formerly the Director of Clinical Programs.
---
Bernice Klaben, PhD, CCC-SLP, BRS-S

Dr. Klaben is an Associate Professor in the Department of Otolaryngology – Head and Neck Surgery at the University of Cincinnati Medical Center.