Publication
Clinical Observation in Communication Sciences and Disorders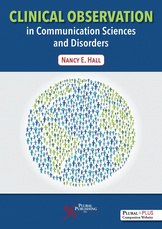 Desk Copy for Instructors
Clinical Observation in Communication Sciences and Disorders
Details:

Illustrated (B/W), Softcover, 7 x 10" 1 lbs
Included Media:

Companion Website
ISBN13:

978-1-63550-019-6
Release Date:

12/29/2017
$79.95
Overview
Clinical Observation in Communication Sciences and Disorders is a textbook written for undergraduate students studying Communication Sciences and Disorders (CSD) who are beginning the process of obtaining clinical observation hours. Designed as an introduction to the process of clinical observation, this text takes a global approach in addressing the development of keen observation skills necessary for clinical practice.
The book provides a framework for approaching clinical observation and includes exercises for instructors and students exploring the importance of clinical observation and its role in health care services, its historical context, philosophical underpinnings, and instructional strategies. Observation is vital to the CSD field, and this work presents a multi-media guide to clinical observation that has not been offered until now. Students and instructors are provided a thorough resource to facilitate the learning of, and learning through, observation that students will carry into clinical observation and future clinical practicum.
Key Features:
Recordings and videos of clinical studies and observations included on a PluralPlus companion website
Activities and exercises that engage the reader firsthand with observation
Chapters designed to guide students in developing comfort with self-exploration, reading and applying research that underlies fundamental observational skills, and recognizing the contributions of the individuals and families with whom they will work
A broad approach to observation that can be applied and practiced globally
A study of observation in CSD that has not been offered before
Preface
Acknowledgments
Contributors
Reviewers
Section I. Introduction to Clinical Observation
Chapter 1. The Art and Science of Clinical Observation
Chapter 2. A Process, a Framework, and a Model for Clinical Observation
Section II. Elements of Clinical Observation
Chapter 3. Element #1: The Observer
Chapter 4. Elements #2 & #3: The Clinician, The Client
Chapter 5. The Client-Clinician Relationship (The Therapeutic Alliance)
Appendix. Disability Memoirs and Stories
References
Index
Purchasers of this book receive complimentary access to supplementary materials hosted on a PluralPlus companion website.
To access the materials, log in to the website using the URL and Access Code located inside the front cover of your copy of Clinical Observation in Communication Sciences and Disorders.