Publication
Clinical Management of Swallowing Disorders, Fourth Edition Bundle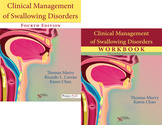 Desk Copy for Instructors
Clinical Management of Swallowing Disorders, Fourth Edition Bundle
Details:

Color Illustrations (4 Color), Boxed Set, 8.5 x 11" 2 lbs
Release Date:

12/30/2016
$144.42
Overview
For graduate-level courses on swallowing disorders or dysphagia, this textbook and its companion workbook examine the diagnosis and treatment of swallowing disorders in children and adults and emphasizes team management, swallowing safety, nutrition, behavioral treatments, and surgical options.
The Fourth Edition of both textbook and workbook have been revised to bring the reader up to date in all aspects of the management of swallowing disorders. The diagnosis and treatment of swallowing disorders is a major medical discipline that traverses multiple medical specialties, especially speech-language pathology and otolaryngology. The essential aspects of dysphagia management are presented in a format that both students and clinicians needing a practical update on dysphagia will find useful.
The companion workbook, which is sold separately, is intended to aid instructors in the delivery of content and to enhance and reinforce student comprehension. The workbook contains true or false, multiple-choice, and fill-in-the-blank questions, along with study topics related to each chapter of the textbook. The questions are closely connected to the textbook, allowing students to review chapter material and quiz themselves in an efficient manner.
About The Authors
Thomas Murry, PhD, is Professor of the Department of Otolaryngology-Head and Neck Surgery at Loma Linda University Health and Co-director of the Voice and Swallowing Center, Loma Linda University. Dr. Murry has distinguished himself as an educator, scientist, and clinician in the areas of swallowing and voice disorders. He received the Honors of the American Speech-Language and Hearing Association, the association's highest honor in 2010.
---
Ricardo L. Carrau, MD, FACS, joined the Department of Otolaryngology-Head and Neck Surgery Department at The Ohio State University as a tenured professor in April 2011. He is Director of the Comprehensive Skull Base Surgery Program and Co-director of the research and education laboratory ALT-VISION (Anatomy Laboratory Toward Visuo-Spatial Innovations in Otolaryngology and Neurosurgery). He also organizes, develops, and promotes the sialendoscopy and salivary disorders program and the swallowing disorders rehabilitation program.
---
Karen Chan, PhD, is an Assistant Professor and Director of the Swallowing Research Laboratory at the Division of Speech & Hearing Sciences, The University of Hong Kong. She received her speech-language pathology training and PhD from The University of Hong Kong. Dr. Chan is an experienced clinician and researcher in the areas of voice and swallowing disorders. Her early research focuses on perceptual voice evaluation and voice training for professional voice users. Her current research interests are in assessment and treatment for motor speech disorders and swallowing problems in elderly, poststroke individuals, and head and neck cancer survivors.