Publication
Clinical Management of Children's Voice Disorders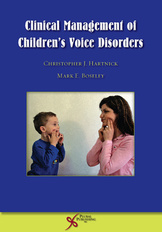 90-Day Exam Copy for Instructors
Clinical Management of Children's Voice Disorders
Details:

289 pages, Color Illustrations (4 Color), Softcover, 7 x 10"
ISBN13:

978-1-59756-354-2
Release Date:

03/01/2010
Overview
Written for SLPs who care for children with vocal disorders, this is the second book by the team who wrote Pediatric Voice Disorders. This new publication is specially designed for SLPs to have access to the medical information at a special price. To that end, certain chapters have been removed from Pediatric Voice Disorders, which focuses on the techniques of surgical care, and other chapters have been reshaped to highlight issues of office based diagnosis and intervention. Several new chapters have been added, including a fascinating and comprehensive chapter by Katherine Verdolini which reviews the literature regarding voice therapy in children as well as an additional chapter on the work-up and treatment of children with Velopharyngeal Insufficiency. The authors have provided a cross-fertilization of thoughts and ideas that comes from putting together a seemingly diverse group of specialists and having them focus on specific pediatric disease-based and pediatric voice pathology-based topics. Within this book, members of each specialty attend to these questions and comment upon how the specialties can best work together towards obtaining diagnoses and rendering unified and comprehensive treatment.
Reviews
Adrienne B. Hancock, PhD, Doody's Review Service (2010):
"... A high quality book and valuable resource for clinicians working with children who have voice disorders, particularly medically involved pathologies."

Martin L. Spencer, MA, CCC-SLP, Advance for Speech-Language Pathologists and Audiologists (March 2011):
"Speech-language pathologists who specialize in clinical voice pathology are the target audience for a handsome new text titled ''Clinical Management of Children's Voice Disorders'' by Christopher Hartnick, MD, and Mark Boseley, MD. The focus is on medical and surgical interventions, rather than behavioral. The book features 25 authors contributing to 16 chapters on such welcome and well-covered topics as laryngeal electromyography (LEMG), pulmonology, airway reconstruction and singing."
Chapter 1: Developmental, Gross, and Histologic Anatomy of the Larynx Mark E. Boseley and Christopher J. Hartnick
Chapter 2: Pediatric Laryngology: The Office and Operating Room Set-Up Mark E. Boseley and Christopher J. Hartnick
Chapter 3: Evaluation of the Child With a Vocal Disorder Shirley Ghersonand Barbara M. Wilson Arboleda
Chapter 4: Voice Quality of Life Instruments Mark E. Boseley and Christopher J. Hartnick
Chapter 5: Laryngopharyngeal Reflux and the Voice Stephen C. Hardy
Chapter 6: The Role of the Pediatric Pulmonologist Kenan E. Haver
Chapter 7: Lryngeal Electromyography in Pediatric Patients Al Hillel
Chapter 8: Pediatric Laryngeal Electromyography Andrew R. Scott and Christopher J. Hartnick
Chapter 9: Voice Therapy for Children Katherine Verdolini Abbott, nicoleYee-Key Li, Rita Hersan, and Leslie Kessler
Chapter 10: Working With the Pediatric Singer: A Holistic Approach Robert Edwin
Chapter 11: Benign Lessons of the Pediatric VocalFolds: Nodules Webs, and Cysts J. Scott McMurray
Chapter 12:Juvenile Onset Recurrent Respiratory Papillomatosis Matthew T. Brigger and Christopher J. Hartnick
Chapter 13: Vocal Fold Immobility Matthew T. Brigger and Christopher J. Hartnick
Chapter 14: Pediatric Airway Recontruction and the Voice Karen B. Zur
Chapter 15: Functional and Spasmodic Dysphonia's in Children Marshall E. Smith, Nelson Roy, and Cara Sauder
Chapter 16:Diagnosis and Treatment of Velopharyngeal Insufficiency Matthew T. Brigger, Jean Ashland, and Christopher J. Hartnick
Chapter 17: Paradoxical Vocal Fold Motion Venu Divi, Mary J. Hawkshaw, and Robert T. Sataloff
Chapter 18: Psychiatric and Psychological Interventions for Pediatric Voice Disorders Abigail L. Donovan and Bruce J. Masek

Index
About The Authors
Dr. Hartnick is an Associate Professor at Harvard Medical School and has clinical appointments at the Newton-Wellesley Hospital, Newton, MA and the Department of Otolaryngology Massachusetts Eye and Ear Infirmary, Boston, MA, where he is also Co-Director of the, Pediatric Airway, Voice, and Swallowing Center.
---
Lieutenant Colonel Boseley is Associate Professor of Surgery at the Uniformed Services University of the Health Sciences in Washington D.C., Assistant Chief of Otolaryngology/Research Director at Madigan Army Medical Center in Tacoma, WA, and has a clinical appointment at the Children's Hospital and Regional Medical Center in Seattle, WA.