Publication
Cochlear Implant Patient Assessment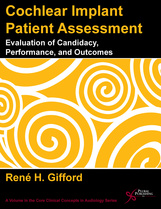 90-Day Exam Copy for Instructors
Cochlear Implant Patient Assessment
Evaluation of Candidacy, Performance, and Outcomes
Details:

160 pages, Illustrated (B/W), Softcover, 8.5 x 11"
ISBN13:

978-1-59756-446-5
Release Date:

01/15/2013
Overview
Cochlear Implant Patient Assessment is an invaluable clinical reference for every cochlear implant audiologist and speech-language pathologist working with the adult or pediatric populations.
This unique text is designed to provide information on best practices assessment of implant candidacy as well as the postoperative assessment of performance over the long term. This book is written for audiologists, speech-language pathologists and deaf educators to serve as a clinical handbook on the assessment tools and therapeutic intervention that are critical during the pre- and post-implant periods. Given that the numbers of both adult and pediatric cochlear implant recipients continue to increase, more and more clinicians will be expected to gain and maintain a level of experience surrounding the clinical management of this population. Though this book contains useful information for even the most seasoned clinicians, it will serve an especially important role in the education and training of students and clinicians being introduced to cochlear implant clinical practice. Having an experienced audiologist and speech-language pathologist authoring this work unites the inter-disciplinary nature of this practice.
Reviews
Marcia Hay-McCutcheon, Ph.D., CCC-A, Associate Professor and Chair, Department of Communicative Disorders, The University of Alabama, International Journal of Audiology, Vol. 52 No. 10. (October 2013):
"Cochlear Implant Patient Assessment: Evaluation of Candidacy, Performance, and Outcomes is a very well written resource that provides essential and practical information for students, professionals and academicians. This concise yet comprehensive book can be used in both clinical and academic environments. It very nicely fills a gap that current cochlear implant resources, which primarily focus on speech processing, anatomical, and behavioral outcome information, have not typically provided.

The limited number of books on cochlear implants that vary in scope makes it challenging for faculty to plan a seminar or course on cochlear implants that provides broad and relevant information. This book explores topics that all speech-language pathology and audiology graduate students will find extremely helpful, and consequently, will allow faculty to more easily provide this necessary information to their students. It can easily be used as a companion book to the other academic cochlear implant resources that are available. Furthermore, each topic within the book is very well researched with extensive references provided which will further aid faculty and students.

As stated by the author, this book is not intended to provide extensive scholarly information on speech processing strategies, auditory physiology, or cochlear modeling but rather it is meant to be a valuable compliment to those resources by providing more clinically-based information. Clinically-based research studies are provided throughout each chapter that help the student understand the importance of evidenced-based practice.

The content of the book is logically organized with initial chapters providing the necessary background information for cochlear implant candidacy in addition to the selection process for cochlear implantation; the middle chapters convey information on assessment of traditional and non-traditional candidates, and the last chapter discusses avenues for further research and understanding. Additionally, within each chapter, a brief introduction to the topic is presented which is followed by a synopsis of the covered topics at the end of the chapter.

Of particular interest in this book is the information provided about non-traditional candidates for cochlear implantation and the changing criteria for implantation. Also, the final chapter touches upon a number of topics that will require further research as the field progresses (e.g., cognitive decline, listening effort, multi-sensory assessment, auditory-related fatigue, bimodal issues). Greater understanding of these topics will hopefully enhance the clinical care for cochlear implant recipients.

In summary, this book will serve as a practical guide for clinicians working with cochlear implant recipients and graduate students in the fields of speech language pathology and audiology."

#, Doody's (2015):
"Named to Doody's Core Titles in the Health Sciences 2015 list!"
FDA Candidacy for Cochlear Implantation
Elements of Preoperative Assessment: Adults
Pediatric Cochlear Implant Candidate Selection
The Role of the Speech-Language Pathologist in the Assessment of Pediatric Cochlear Implant Candidacy
Non-traditional Candidates for Cochlear Implantation
Elements of Postoperative Assessment: Adult Implant Recipients
Elements of Postoperative Assessment: Pediatric Implant Recipients
The Role of the Speech-Language Pathologist and Teacher of the Deaf in the Post-operative Assessment of Children
Assessing Pre-and Postoperative Outcomes for Adults and Children: What Does the Future Hold and What Might We Be Missing?
About The Author
René Gifford, PhD is an associate professor at Vanderbilt University and the Director of the Cochlear Implant Program at the Vanderbilt Bill Wilkerson Center. She is also the Director of the Cochlear Implant Research Laboratory at Vanderbilt where she carries out her NIH funded research on combined electric and acoustic stimulation (EAS). She received her undergraduate and Ph.D. degrees at Arizona State University and her M.S. at Vanderbilt University.
She completed a 3-year postdoctoral fellowship in the Cochlear Implant Laboratory at Arizona State University under the direction of Michael Dorman, Ph.D.
Dr. Gifford has authored over 70 peer-reviewed articles, multiple book chapters, has delivered over 100 national and international presentations. When she's not in the lab or clinic, you will likely find her with her husband and three sons at the skate park or football field.
Related Titles



164 pages, Illustrated (B/W), Softcover, 8.5 x 11"