Publication
Cognitive-Communication Disorders of Dementia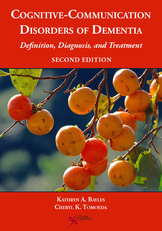 Desk Copy for Instructors
Cognitive-Communication Disorders of Dementia
Definition, Diagnosis, and Treatment
Second Edition
Details:

288 pages, Illustrated (B/W), Softcover, 7 x 10"
ISBN13:

978-1-59756-564-6
Release Date:

12/26/2013
$99.95
Overview
THE THIRD EDITION WILL BE AVAILABLE IN DECEMBER 2018. CLICK HERE FOR MORE INFORMATION.

Written by internationally recognized experts, Cognitive-Communication Disorders of Dementia: Definition, Diagnosis, and Treatment, Second Edition provides students and practicing professionals with cutting-edge information on the diagnosis and treatment of cognitive-communication disorders associated with minimal cognitive impairment (MCI) and dementia-related diseases.
KEY FEATURES
Chapters on MCI and cognitive stimulation therapy to delay or prevent evolution to dementia
A chapter on memory systems, cognition, and communication that provides a foundation for understanding the unique cognitive profiles of common dementia-related diseases
Three chapters devoted to therapy and care planning
A chapter on assessment and differential diagnosis

Dr. Kathryn A. Bayles and Ms. Cheryl K. Tomoeda have more than 30 years of experience researching the effects of age-related diseases on communication, and the diagnosis and treatment of those diseases. Their research has been supported by the NIH, the Alzheimer's Association, the Andrus Foundation, as well as the University of Arizona and the University of Central Arkansas. Their two standardized tests for assessing communicative function in individuals in various stages of dementia are widely used by professionals in the field.
This comprehensive text, Cognitive-Communication Disorders of Dementia: Definition, Diagnosis, and Treatment, Second Edition, is the culmination of Dr. Bayles and Ms. Tomoeda's lifelong studies and research and is a valuable resource for students and clinicians alike.
Reviews
Preface
Acknowledgements
Contributors
Chapter 1. Speech Pathology, Mild Cognitive Impairment, and Dementia
Introduction
Communication Defined
Rationale for Therapy

Neuroplasticity
Memory Systems and Their Selective Vulnerability to Disease
Cognitive Reserve

Summary of Important Points
References

Chapter 2. Cognition, Memory, and Communication
Cognition and Memory
The "Company of Cognition"
Memory Defined

Sensory Memory
Working Memory
Long-Term Memory

Relation of Cognition and Memory to Communication

Production of Linguistic Information
Comprehension of Linguistic Information

Summary of Important Points
References

Chapter 3. MCI: Mild Cognitive Impairment
Introduction
Clinical Presentations of MCI
Diagnostic Criteria for MCI
Conversion to Dementia

Conversion Rate by MCI Subtype
Number of Deficits and Conversion to Dementia

Risk and Protective Factors
Cognitive Deficits
Cognitive-Linguistic Deficits in MCI
Conclusion
Summary of Important Points
References

Chapter 4. Alzheimer's Dementia
Alzheimer's Disease Introduction
Diagnostic Criteria for AD
Neuropathology of AD
Risk Factors for AD

Age
Family History of AD
Less Education
History of Head Trauma
Loneliness
Gender
Maternal Age
Apolipoprotein E4 Allele
Mild Cognitive Impairment

Predictors of Disease Progression
Protective Factors
Effects of AD on Cognitive and Communicative Functions

Early Stage
Middle Stage
Late Stage

Summary of Important Points
References

Chapter 5. Dementia and Down Syndrome
Introduction
Risk of Developing Alzheimer's Disease
Common Features in People with DS
Prevalence of Dementia in DS
Diagnosing Dementia in Individuals with DS

A Study of the Cognitive-Communicative Profiles of DS
Adults with and without Dementia

Language and Communication Skills in Adults with DS

Premorbid Language
Language Change in Dementia
Cognitive and Behavioral Measures Appropriate for Individuals with DS

Summary of Important Points
References

Chapter 6. Vascular Dementia
Introduction
Neuropathology
Diagnostic Criteria

Criteria for Presence of Cognitive Disorder
Criteria for Presence of VaD
Criteria for Probable VaD
Criteria for Possible VaD
Criteria for Vascular Mild Cognitive Impairment
Criteria for Probable VaMCI
Criteria for Possible VaMCI
Unstopable Vascular VaMCI

Risk Factors for VaD

Aging
Hypertension
Family History
Ethnicity and Gender
Diabetes Mellitus
Lifestyle

Effects of VaD on Cognitive and Communicative Functioning

Vascular Pathology May be a Trigger for Dementia

Observations About the Effects of Vascular Pathology on Cognition and Communication
Comparison of Effects of Cortical and Subcortical Pathologies

Cortical Pathologies
Subcortical Pathologies
VaD compared with AD

Observations from Course-of-Disease Studies
Conclusion
Summary of Important Points
References

Chapter 7. Parkinson's Disease and Dementia
Parkinsonism and Parkinson's Disease
Incidence and Prevalence of PD and Dementia Among Persons with PD
Risk Factors for PD

Risk Factors for Development of Dementia

Neuropathology of PD
Symptoms of PD

Movement Symptoms
Other Associated Symptoms

Diagnostic Criteria

MDS Task Force Criteria for Diagnosing PDD

Neuropsychological Characteristics of PD and PDD

PD Without Dementia
PD with MCI and Dementia

Relation of PDD, Dementia with Lewy Bodies, and AD

Comparison of the Dementia of PD and AD

Effects of PD and PDD on Communicative Function

Communicative Function in Nondemented PD Patients
Individuals with PD and Dementia Compared with Individuals with AD on the ABCD

Summary of Important Points
References

Chapter 8. Dementia and Lewy Body Disease
Lewy Body Disease
Diagnostic Criteria and Symptomatology
Consortium Consensus Criteria for Diagnosis of Dementia
Caregiver Report of Early Symptoms
Incidence and Prevalence
Risk Factors for DLB
Effects of LBD on Cognition

Executive Function Deficits
Visuoperceptual and Spatial Functions
Memory and Attention

Cognitive Profile of LBD Compared to AD
Effects of LBD on Language and Communicative Function
A Care of Pure LBD

Summary of Changes in Communicative Functioning

Summary of Important Points
References

Chapter 9. Dementia and Huntington's Disease
Overview and Genetics of Huntington's Disease
Neuropathology of HD
Symptomatology

Affect and Motor Symptoms
Effects of HD on Speech
Disease Effects on Cognition
Language Symptoms
Striatal Degeneration and Language
Cognition and Communication

Summary of Important Points
References

Chapter 10. Frontotemporal Dementia
Introduction
Consensus Terminology and Diagnostic Criteria
Behavioral Presentation

Behavioral Variant Frontotempral Dementia

Language Presentation: Primary Progressive Aphasias
Frontotemporal Dementia and Amyotrophic Lateral Sclerosis

Effects of ALS-FTD on Language

Summary of Important Points
References

Chapter 11. Assessment of Cognitive-Communicative Disorders of Dementia
Introduction
The Process of Assessment
Prior to Testing

Review the Patient's Chart
Arrange for a Good Testing Environment

During Testing

Check Vision
Check Hearing
Check Literacy
Take Steps to Reduce Test-Taking Anxiety
Be Alert to Depression
Be Alert to Drug Affects on Performance

Use Appropriate Tests
Assessment of MCI due to AD
Comprehensive Neuropsychological Approach to Screening for MCI

Montreal Cognitive Assessment
Repeatable Battery for the Assessment of Neuropsychological Status

Assessment of AD

Screening for AD
Comprehensive Evaluation of Cognitive-Communicative Functioning

Differential Diagnosis

Differentiating Mild AD from Delirium and Depression
Differentiating Mild AD from Frontotemporal Dementia
Presenting with Progressive Changes in Behavior
Differentiating Mild AD from FTD Presenting with Progressive Changes in Language (Primary Progressive Aphasia and Its Variants)
Differentiating AD from Vascular Dementia
Differentiating Mild AD from Dementia with Lewy Body (DLB) and Parkinson's Disease with Dementia (PDD)

Summary of Important Points
References

Chapter 12. Cognitive Intervention and MCI
Kim McCullough, MD
Introduction
Forms of Cognitive Intervention
Developing a Cognitive Intervention Program for MCI

What Outcome Measures Should Be Used to Document Progress?
What Is the Typical Session Format for CIPs?

Key Element 1: Repetition-Based Focus on Cognitive Domains
Key Element 2: Provide Direct Training of Strategies and Functional Skills
Key Element 3: Empower Clients with Education Regarding Healthy Aging and Brain Habits
Key Element 4: Provide Goal-Oriented Social Opportunities that Support Cognitive Engagement
Conclusion
Summary of Important Points
References

Chapter 13. Treatment: Direct Intervention
Introduction
Treatment Guidelines
Strategies for Successful Intervention

Facilitating Perception of Stimuli
Consider Span Capacity of Working Memory
Control of Task Complexity
Minimize Error Responses
Recognition Is Easier Than Recall
Use Retrieval Cues that Reflect Support Given at Encoding
Allow More Time to Respond
Avoid Having Client Multitask

Using the Principles of Neuroplasticity to Support Learning and the Maintenance of Knowledge and Skills

Attention
Reward and Emotion are Related
Stimulation
Priming
Active Engagement
Reminiscence
Elaborate Encoding
Repetition
Intensity, Duration, Constraint

Summary of Important Points
References

Chapter 14. Indirect Interventions for Cognitive-Communication Disorders of AD
Introduction
Linguistic Modifications

Improving Language Comprehension
Improving Production of Language
If the Patient Wishes to Write a Letter, Supply the Materials, a List of News Items, and a Picture of the Letter's Intended Recipient

Computer Supports

Computer-Based Assistive Technology
"Life Story Work"
A House as a Cognitive Orthotic

Caregiver Counseling Basics

Creating a Safe Environment
Music
Having Something to Nurture

Supporting Feeding
Reducing Verbal Perseveration and Disruption
Summary of Important Points
References

Chapter 15. Care Planning
Introduction
The Law and Medicare Regulations

Minimum Data Set (MDS)
Resident Assessment Protocols (RAPs)

Centers for Medicare and Medicaid Services
Role of the SLP

A Relevant Question
Can SLPs Do Cognitive Therapy?

Medicare Cap on Amount of Service Dollars
Using Test Performance to Develop Treatment Plans

Restorative Care Plan: A Case Example
Functional Maintenance Plan: A Case Example

Documentation Is Critical

Evaluation and Plan of Care
Progress Notes
Treatment Encounter Notes
Documentation Pitfalls

Caregiving

Health Risks of Caregiving
Gender and Caregiving
Family Strife and Violence
Factors That Influence Caregiver Burden and Stress

Family Counseling

Culture Matters in Counseling
Emphasize What the Patient Can Do

Caregiver Education and Training
Summary of Important Points
References

Index
About The Authors
Kathryn Bayles is an internationally known expert on the cognitive-communicative disorders of dementia. Now Professor-Emerita at the University of Arizona, Dr. Bayles has served as Department Head of Speech, Language and Hearing Sciences and Associate Director for the National Center for Neurogenic Communication Disorders. Her research has received support from the National Institutes on Aging, Mental Health, Deafness and Other Communication Disorders, the Alzheimer's Association and the Robert Wood Johnson and Andrus Foundations. She is a Fellow in the American Speech-Language-Hearing Association and Honors recipient and a Past President of the Academy of Neurologic Communication Disorders and Sciences.
---
Ms. Tomoeda is Associate Director of Development for the University of Arizona College of Science after a 22-year career in the Department of Speech, Language, and Hearing Sciences. She is known for her work with Dr. Kathryn Bayles on the communication abilities of individuals with dementia. The two have collaborated on three other books, and co-authored two standardized tests for evaluating the cognitive-communication disorders of dementia, and conducted research on this topic for over 20 years.