Publication
Cognitive Communication Disorders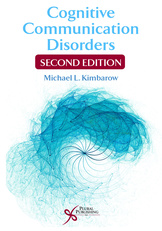 Desk Copy for Instructors
Cognitive Communication Disorders
Second Edition
Edited by: Michael L. Kimbarow
Details:

320 pages, Illustrated (B/W), Softcover, 7 x 10"
ISBN13:

978-1-59756-548-6
Release Date:

11/10/2014
$109.95
Overview
Cognitive Communication Disorders, now in its second edition, is the definitive core text for graduate courses that address cognitively based communicative disorders. This text provides up-to-date knowledge on the normal cognitive processes that support communication, cognitive linguistic communication disorders, clinical management, as well as the impact that deficits in these cognitive domains may have on language and communication - including right hemisphere disorders, Alzheimer disease and related disorders, and traumatic brain injury. Furthermore, through contributions from a renowned group of contributors, this text provides a comprehensive review of theoretical and applied research on the cognitive processes of attention, memory, and executive function.
For this second edition, the content has been extensively revised and updated to reflect the burgeoning research in this area of study. Specific updates include:
A new chapter on mild brain injury
Expansion of the dementia chapter to include content on clinical intervention and working with families
Updates to evidence-based practices for patients suffering from traumatic brain injury
Preface
Acknowledgments
Contributors
Chapter 1. Attention
Michael Biel and William Hula

Chapter 2. Principles of Human Memory: An Integrative Clinical Perspective
Fofi Constantinidou

Chapter 3. Executive Functions: Theory, Assessment, and Treatment
Mary H. Purdy

Chapter 4. Cognitive-Communication Deficits Associated with Right Hemisphere Brain Damage
Margaret Lehman Blake

Chapter 5. Dementia: From Concept to Clinical Practice
Nidhi Mahendra

Chapter 6. Cognitive Communication Disorders of Combat-Related Mild Traumatic Brain Injury
Carole Roth

Chapter 7. Traumatic Brain Injury
Sarah E. Wallace and Michael L. Kimbarow

Index
About The Editor
Michael L. Kimbarow, PhD, CCC-SLP, BC-NCD, is professor and chair of the Department of Communicative Disorders and Sciences at San José State University.