Publication
Cases: Introducing Communication Disorders Across the Lifespan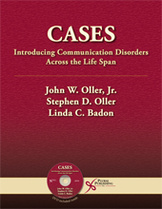 Cases: Introducing Communication Disorders Across the Lifespan
Details:

784 pages, Color Illustrations (2 Color), Hardcover, 8.5 x 11"
Included Media:

DVD
ISBN13:

978-1-59756-035-1
Release Date:

07/01/2009
Overview
This engaging, accessible, and comprehensive textbook introduces the full range of communication disorders that affect speech and language as well as underlying sign systems of sensation, movement, and social cognition. The content is visible, audible, observable, comprehensible, compelling and accessible. It is technology and media rich. It is accessible through easily comprehended stories but encyclopedic in coverage and thoroughness.
This course book and its accompanying media rich materials in DVD and web-rich formatting (including links to webcasts as well as videos and illustrations to be included on the DVD) cover the full range of communication disorders as they affect human sign systems. The DVD includes a digital, searchable, user-friendly version of the complete text (in an Adobe Acrobat .pdf file).
Each chapter ends with discussion questions, and is linked to a set of intensive multiple choice questions that are presented in a separate Appendix in three forms: two without answers (MSWord and WordPerfect formats) that may be used in teacher-made tests, and an Acrobat file with answers that may be used as a study-guide and check system by students. The DVD also includes an extensive and complete Glossary of technical terms with succinct but accurate definitions as well as a complete Index of authors, terms, and important topics covered throughout the book. In addition, PowerPoint summaries (which can easily be edited and added to by the instructor) are provided for classroom use are provided for every chapter.
Click here for more information about John Oller's research and writing.
Review
Adrienne B. Hancock, PhD (George Washington University), Doody's Review Service (2009):
"The authors intend to present basic content in a dynamic framework to illustrate relationships and themes woven through many communication disorders. This unique take on perhaps the most basic content is refreshing and engaging. ... This book has a unique framework and presentation among introductory communication disorder texts. Students (majors and non-majors) would find it interesting and motivating."
What are Communication Disorders?
Genetics to Anatomy: Craniofacial Anomalies
Auditory and Other Sensory Disorders.
Systems Integration and Hearing Disorders
Childhood Disorders
Swallowing, Voice, and "Motor" Speech
Articulation Disorders
Fluency Disorders
Literacy and Dyslexia
Adult and Neurologic Disorders
Assessment, Diagnosis, and Language/Dialect
Advocacy, Law, and Ethics
References
Glossary of Terms
Index

DVD CONTENTS: The DVD contains an expanded Table of Contents with the introductions and summaries of each chapter along with working hyperlinks to URLs referred to in every chapter. It also contains all of the figures, illustrations, and media files referred to in the text, and a searchable version of all the open-ended Discussion Questions, References, Glossary, Index, and the 600 Multiple Choice Questions that are systematically linked page-by-page to the unfolding story told chapter-by-chapter. There is also a PowerPoint summary slide for each chapter highlighting key points.
About The Authors
John W. Oller, Jr., PhD, has given a lifetime of study to language acquisition. He began his work as a professor at the University of California in Los Angeles. He went on to found the Department of Linguistics at the University of New Mexico and the Applied Language and Speech Sciences PhD Program at the University of Louisiana.
---
Stephen D. Oller, PhD, is an associate professor in the Communication Sciences and Disorders Program (in the Department of Biological and Health Sciences) at Texas A&M University-Kingsville.
---
Linda C. Badon, Ph.D. is Assistant Professor at the University of Louisiana at Lafayette. Her primary research papers, complementing her clinical work, deal with assessment, diagnosis, and treatment of disorders as well as language, literacy, and cultural diversity. She has served on essential doctoral committees producing some of the key research presented in this book.