Publication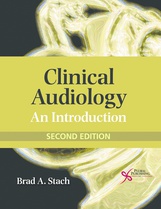 Desk Copy for Instructors
Clinical Audiology
An Introduction
Second Edition
Details:

788 pages, Color Illustrations (2 Color), Hardcover, 8x10 1 lbs
ISBN13:

978-1-94488-388-1
Release Date:

10/07/2010
$139.95
Overview
Previously out of print, Plural has made the second edition available that was formerly published by Cengage.
Clinical Audiology: An Introduction, Second Edition is a stimulating, introductory-level textbook that provides a "big-picture" overview of the field of audiology. It introduces the student to the broad scope of the field, with the aim that they will be better prepared to understand the relevance of what they learn later on. This text provides general familiarization with the many different evaluative and rehabilitative technologies and demonstrates how these technologies are integrated into answering the many challenging clinical questions facing an audiologist. Focusing on the clinical nature of audiology, this essential book provides students with questions, challenges, and technologies available to address issues of hearing impairment and rehabilitation.
This textbook is intended primarily for beginning-level students in the fields of audiology and speech-language pathology. It is intended for the first major course in audiology, whether it be at the undergraduate or graduate level.
Whether you are planning a career as an audiologist or speech-language pathologist, Clinical Audiology: An Introduction, Second Edition, is the most comprehensive, easy-to-understand book designed to give you the clinical knowledge base needed to advance in your chosen profession.
Key Features:
Chapter objectives begin each chapter to preview the concepts to be discussed.
End of chapter short answer and discussion questions aid students in applying concepts.
''End of chapter summaries" outline the key points from the chapter to remember.
Margin notes with key terms and definitions.
Bolded key terms throughout the text.
Clinical notes describe particular techniques students might consider using.
Audiologist profiles describe the various roles of audiologists in the profession to pique a student's interest and personalize topics discussed.
Comprehensive glossary and index
Preface
About the Author
Acknowledgments
Chapter 1: The Profession of Audiology in the United States
Chapter 2: The Nature of Hearing
Chapter 3: The Nature of Hearing Loss
Chapter 4: Causes of Hearing Disorder
Chapter 5: Introduction to Hearing Assessment
Chapter 6: The Audiologist's Assessment Tools: Pure-Tone Audiometry
Chapter 7: The Audiologist's Assessment Tools: Speech Audiometry and Other Behavioral Measures
Chapter 8: The Audiologist's Assessment Tools: Immittance Measures
Chapter 9: The Audiologist's Assessment Tools: Physiologic Measures
Chapter 10: Different Assessment Approaches for Different Populations
Chapter 11: Communicating Audiometric Results
Chapter 12: Introduction to Audiologic Management
Chapter 13: The Audiologist's Treatment Tools: Hearing Instruments
Chapter 14: The Audiologic Treatment Process
Chapter 15: Different Treatment Approaches for Different Populations
Appendix A: Scope of Practice in Audiology
Appendix B: Audiology: Scope of Practice
Appendix C: Answers to Short Answer and Discussion Questions
Glossary
Index
About The Author
Brad Stach, PhD, is Head of Division of Audiology in the Department of Otolaryngology-Head and Neck Surgery with Henry Ford Health System in Detroit, Michigan.
Related Titles


332 pages, Illustrated (B/W), Spiral Bound, 8.5 x 11"

424 pages, Color Illustrations (2 Color), Softcover, 8.5 x 11"