Publication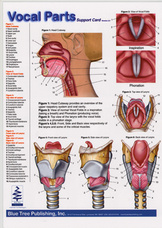 Vocal Parts
Details:

CD-ROM
ISBN13:

978-1-59756-168-6
Release Date:

01/01/2000
$95
Overview
Up-to-date brand new biological drawings, including a larynx cutaway in full and stepped-view animation.
Larynx
Easy to navigate, the Larynx View includes front, back and side aspects. Detailed drawings explain how the larynx looks and works. Includes unique cutaway animation sequence of the vocal folds in action.
Vocal Folds
The Vocal Folds View features animation, rollover descriptions and movies of the vocal folds in action. Design promotes easy learning of the vocal folds anatomy and makes a great tool for student education.
Scope & Head
The side view of the head features animation, rollover descriptions and scope movies. Unique animation sequences clearly demonstrate scope entry and exit. A perfect patient and student "how to".
Support Card
A full color, plastic laminated card that details the parts of the larynx, vocal folds and scope entry. Included with the Vocal Parts software or available separately.
Minimum Requirements:
For Microsoft Windows: An Intel Pentium III 800 processor running Windows 98SE, 2000 SP1, XP SP2, or NT version 4.0 SP6 or later; 512 MB of installed RAM; and a color monitor
Soundcard with MIDI
QuickTime 5.0 or better (latest version installed during setup, Mac assumes prior install)
Free space on hard drive 100 MB
About The Authors
-
---
---
Founder, Blue Tree Publishing, Inc.