Publication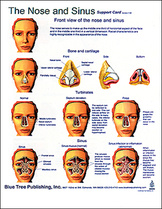 Nose and Sinuses
Details:

CD-ROM
ISBN13:

978-1-59756-167-9
Release Date:

01/01/2005
$145
Overview
Nose and Sinuses is an interactive graphics program developed by Michael Benninger, M.D. showing the normal anatomy of the nose and sinuses. Clearly animated anatomical drawings show front and side views of the nose including the nasal cavities, sinuses and the olfactory bulb. An extensive video section shows normal, operation and post operation views.
Front
The rollover feature (placing the cursor on any structure) allows the user to identify the names of structures and obtain descriptive information. Animations of normal and infected sinus can clearly be seen for ease of learning.
Side
Side views include animations of common nose bleeds, smelling and sinuses-each complete with rollovers for ease of learning.
Video
Nose and Sinuses provides over 20 videos of the normal nose and a variety of pathologies. The user can run the video at regular, slow and fast speeds as well as control each frame via a slider bar.
Support Card
A full color, plastic laminated card that details the Nose. Included with the Nose and Sinuses software or available separately.
Minimum Requirements:
For Microsoft Windows: An Intel Pentium III 800 processor running Windows 98SE, 2000 SP1, XP SP2, or NT version 4.0 SP6 or later; 512 MB of installed RAM; and a color monitor
Soundcard with MIDI
QuickTime 5.0 or better (latest version installed during setup, Mac assumes prior install)
Free space on hard drive 100 MB
About The Authors
Dr. Michael S. Benninger is the Chairman of the Head and Neck Institute at The Cleveland Clinic and is a Professor of Surgery at the Cleveland Clinic Lerner College of Medicine of Case Western Reserve University. The Head and Neck Institute comprise the specialties of Otolaryngology, Audiology, Speech and Language Sciences, Oral Surgery and Dentistry.
---
Founder, Blue Tree Publishing, Inc.
Related Titles

225 pages, Color Illustrations (4 Color), Hardcover, 7 x 10"