Publication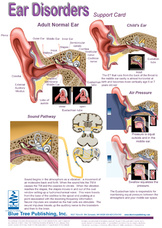 Ear Disorders
Details:

CD-ROM
Included Media:

Two support cards
ISBN13:

978-1-59756-368-0
Release Date:

04/01/2009
$125
Overview
This is an interactive graphics program showing different types of disorders that affect the ear. Clearly animated anatomical drawings show anatomy, outer, middle and inner ear disorders, including examples such as swimmer's ear, otitis, otosclerosis TM puncture, ear wax, air pressure and the effects of excessive noise. Includes two double side plastic laminated Support Cards.
Minimum Requirements:
For Microsoft Windows: An Intel Pentium III 800 processor running Windows XP SP2 or Vista; 1 GB of installed RAM; and a color monitor, 1024 x 768 minimum screen size
For Mac: OS X 10.2.8 or better, will not run in classic environment

Sound card with MIDI
Quick Time 7.0 or better
(version 7.2.0.240 installed during setup in Windows version, Mac assumes prior install)
Free space on hard drive 288 MB
Anatomy of the Ear
Anatomy Roll Over
Sound Pathway
Air Pressure Equalization
Outer Ear
Impacted Wax
Foreign Bodies
Swimmer's Ear
Middle Ear
Eustachian Tube
Otitis Media
Otosclerosis
Cholesteatoma
Acoustic Trauma
Inner Ear
Normal
Meniere's Disease
Prebycusis
Acoustic Tumor
Noise Effects
Tinnitus
About The Author
Sharon A. Sandridge, PhD is currently Director of Clinical Services, and the Co-Director of the Audiology Research Lab (ARL) and Tinnitus Management Center at the Cleveland Clinic, in Cleveland, Ohio.