Publication
Balance Function Assessment and Management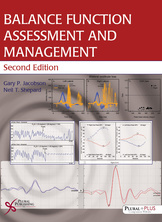 Desk Copy for Instructors
Balance Function Assessment and Management
Second Edition
Edited by: Gary P. Jacobson, Neil T. Shepard
Details:

904 pages, Illustrated (B/W), Hardcover, 8.5 x 11"
Included Media:

Companion site
Illustrations:

378
ISBN13:

978-1-59756-547-9
Release Date:

12/31/2014
$169.95
Overview
THE BEST SELLING BOOK ON THE TOPIC! INCLUDES 7 NEW CHAPTERS.
Balance Function Assessment and Management, Second Edition with seven new chapters, continues to comprehensively address the assessment and treatment of balance system impairments through contributions from top experts in the areas of dizziness and vertigo. Designed for use in graduate audiology programs and by practicing audiologists, this is also a valuable text for those in the fields of physical therapy, otolaryngology, and neurology.
Assessment chapters focus on ocular motility testing, positional/positioning testing, caloric testing, rotational testing, computerized dynamic posturography, and vestibular evoked potentials. Treatment chapters examine nonmedical, medical, and surgical treatments of dizziness and vertigo, vestibular rehabilitation, and assessment of and intervention for risk of falls. Additionally, this text provides background information on the vestibular and ocular motor systems with corresponding sample cases.
New topics addressed in this edition include:
Development of the vestibular system
Central compensation following peripheral vestibular system impairment
Video head impulse test (vHIT)
Biomechanics and physiology of balance
Electrocochleography (ECochG)
Pediatric vestibular system and balance assessment
Effects of age on the vestibular and balance systems

An added bonus to the second edition is the PluralPlus companion website that offers additional reference materials, such as video clips, associated with the text.
Sample video from the companion website: Shown is the direct eye movement examination in the following order; fixation present, fixation removed, and finally head-shake testing. The patient is a 77-years-old female with diagnosis of right vestibular hypofunction secondary to vestibular-neuronitis.
Reviews
Julie Honaker, PhD, Depart of Special Education and Communication Disorders, University of Nebraska - Lincoln, International Journal of Audiology (2015):
"Balance Function Assessment and Management, edited by Drs. Gary Jacobson and Neil Shepard, is a well written textbook and necessary resource covering all aspects of balance function and remediation. Substantial advancements in vestibular and balance assessment and management practices over the past seven years justified editions to the first publication. This book encompasses all aspects of vestibular and balance sciences, both basic and clinical and now includes 34 chapters (904 pages). True to the first edition, all new contributions were written by experts in the field in a concise yet lucid manner that students and clinicians alike will understand. Similarly, almost all of the chapters included from the first edition were extensively updated with significant improvements to the content, tables, and figures. This text is well researched, with comprehensive and appropriate references for further review. In addition, the videos supplied on the companion website are effective supplemental learning tools for the clinical concepts discussed throughout the text. Moreover, nearly all chapters provide clinical cases or clinical examples to reinforce clinical decisions for best care. Overall, this is an excellent compilation of the most state- of-the art assessment and management topics and techniques that I will most certainly include for my graduate students and for my own reference in clinical practice."

Fiona Barker, Windsor Audiology Centre, Princess Margaret Hospital, Berks, UK., ENT & Audiology news (2016):
"...There are welcome, entirely new chapters on the development of the vestibular system balance and vestibular compensation. A revised assessment section includes a new chapter on electrocochleography as well as an excellent introduction and summary of paediatric vestibular testing. Chapters on computerised dynamic posturography have been supplemented with additional information on biomechanics and the physiology of balance. Gone is active rotation testing and in its place a comprehensive chapter on video head impulse testing which includes a useful trouble-shooting section. Other new content includes a chapter on the topographical localisation of vestibular impairment with some excellent clear diagrams, providing a useful link back to the first chapter on anatomy and physiology. The chapter on psychiatric dizziness has been revised and renamed, detailing the contribution and inter-relationship of behavioural and psychological factors in dizziness. In a world where we are seeing increasing numbers of elderly people with dizziness (often associated with other co-morbidities) it was pleasing to see that the section on rehabilitation in this population extended to two chapters to include a focus on the aging vestibular system..."

John E. King, Ear and Hearing journal (REVIEW OF THE 1ST EDITION):
"Despite the number of contributors, the text flows seamlessly as uniformity has been maintained in presentation style and language. ... A must-have for those who truly want to explore and understand the clinical realm of the vestibular system. ... This text offers something for everyone from the novice to the expert nearing retirement."''"

Linda Jacobs-Condit, AuD, George Washington University,, Doody's Review Service (REVIEW OF THE 1ST EDITION):
"Up to date and useful as a reference for students as well as practicing clinicians in audiology, otology, physical therapy, and neurology."

Guangwei Zhou, Balance and Vestibular Program, Department of Otolaryngology & Communication Enhancement, Boston Children's Hospital at Waltham, International Journal of Pediatric Otorhinolaryngology (April 2016):
"To summarize, this book provides a comprehensive review of topics in assessment of balance and vestibular function, as well as management options of vertigo and imbalance. The contents are up to date and it can be a resourceful text for audiologists, otolaryngologists, neurologists and other clinicians who may have an interest in this field."
List of Videos
Preface
About the Editors
Contributors
Chapter 1. Practical Anatomy and Physiology of the Vestibular System
Michael C. Schubert and Neil T. Shepard
Chapter 2. Practical Anatomy and Physiology of the Ocular Motor System
Scott D. Z. Eggers
Chapter 3. Ontogeny of the Vestibular System and Balance
Timothy A. Jones and Sherri M. Jones
Chapter 4. Clinical Neurophysiology of Vestibular Compensation
Kamran Barin
Chapter 5. Eye Movement Recording Techniques
Gary P. Jacobson, Neil T. Shepard, Devin L. McCaslin, Erin G. Piker, and J. Andrew Dundas
Chapter 6. The Vertigo Case History
Lauren T. Roland, Belinda C. Sinks, and Joel A. Goebel
Chapter 7. Bedside Assessment of the Vestibular System
Devin L. McCaslin, J. Andrew Dundas, and Gary P. Jacobson
Chapter 8. Assessing Dizziness Related Quality of Life
Gary P. Jacobson, Craig W. Newman, and Erin G. Piker
Chapter 9. Background and Technique of Ocular Motility Testing
Neil T. Shepard and Michael C. Schubert
Chapter 10. Interpretation and Usefulness of Ocular Motility Testing
Neil T. Shepard, Michael C. Shubert, and Scott D.Z. Eggers
Chapter 11. Technique and Interpretation of Positional Testing
Richard A. Roberts
Chapter 12. Background and Technique of Caloric Testing
Kamran Barin
Chapter 13. Interpretation and Usefulness of Caloric Testing
Kamran Barin
Chapter 14. Background and Introduction to Whole-Body Rotational Testing
Adam M. Goulson, James H. McPherson, and Neil T. Shepard
Chapter 15. Clinical Utility and Interpretation of Whole-Body Rotation
Neil T. Shepard, Adam M. Goulson, and James H. McPherson
Chapter 16. The Video Head Impulse Test (vHIT)
Ian S. Curthoys, Hamish G. MacDougall, Leigh A. McGarvie, Konrad P. Weber, David Szmulewicz, Leonardo Manzari, Ann M. Burgess, and G. Michael Halmagyi
Chapter 17. Practical Mechanics and Physiology of Balance
Lewis M. Nashner
Chapter 18. Computerized Dynamic Posturography
Lewis M. Nashner
Chapter 19. Interpretation and Usefulness of Computerized Dynamic Posturography
Neil T. Shepard
Chapter 20. Vestibular Sensory-Evoked Potentials
Sherri M. Jones and Timothy A. Jones
Chapter 21. Vestibular-Evoked Myogenic Potentials (VEMPs)
Devin L. McCaslin and Gary P. Jacobson
Chapter 22. Tests of Otolith Function and Vestibular Perception
Adolfo M. Bronstein
Chapter 23. Electrocochleography (ECochG)
Paul R. Kilney
Chapter 24.Topological Localization of Vestibular System Impairment
Gary P. Jacobson, Devin L. McCaslin, Erin G. Piker, Jill M. Gruenwald, Sarah L. Grantham, and Lauren L. English
Chapter 25. Pediatric Vestibular Testing
Kristen Janky and Neil T. Shepard
Chapter 26. Nonmedical Management of Positional Vertigo
Richard A. Clendaniel
Chapter 27. Medical Management of Vertigo That Is Otologic in Origin
Brian Neff and R. Mark Wiet
Chapter 28. Surgical Management of Vertigo That Is Otologic in Origin
Steven A. Telian and R. Mark Wiet
'Chapter 29. Neurologic Origins of Dizziness and Vertigo
Joseph M. Furman and Susan L. Whitney
Chapter 30. Behavioral Factors in Dizziness and Vertigo
Jeffrey P. Staab
Chapter 31. Vestibular Rehabilitation
Susan L. Whitney and Joseph M. Furman
Chapter 32. The aging Vestibular System: Implications for Rehabilitation
Courtney D. Hall and Dara Meldrum
Chapter 33. Multifactorial Assessment of Falls Risk in the Elderly
Gary P. Jacobson and Devin L. McCaslin
Chapter 34. Within and Between Measure Relationships Between Balance Function Tests - Illustrative Cases
Gary P. Jacobson, Devin L. McCaslin, Sarah L. Grantham, and Neil T. Shepard
About The Editors
Dr. Gary Jacobson is Professor and Director of the Division of Audiology at the Vanderbilt Bill Wilkerson Center at Vanderbilt University Medical Center. Prior to this he was the Director of the Division of Audiology, and Adjunct Staff in the Department of Neurology for the Henry Ford Health System in Detroit, Michigan.
He completed his undergraduate studies at California State University at Fullerton. He received his MS in Communicative Disorders (Audiology) at the University of Wisconsin-Stevens Point and received has PhD from Kent State University. He served as the Chief of the Audiology and Speech Pathology Section (Neurology Service) at the VA Medical Center in Cincinnati from 1979-1988. During that time he served as both Director of the Evoked Potentials Laboratory and, Director of the Intraoperative Monitoring Program for the Department of Neurosurgery, University of Cincinnati Medical Center, Cincinnati, Ohio.
Dr. Jacobson is a Past President of the American Society of Neurophysiological Monitoring, and has served on the Scientific Advisory Board and Board of Directors of the American Tinnitus Association. He is the past-editor of The American Journal of Audiology (American Speech-Language Hearing Association) and a past Assistant Editor (Evoked Potentials) for The Journal of the American Academy of Audiology (American Academy of Audiology). He is an Editorial Board member for the journals Brain Topography and Seminars in Hearing. He is an Ad Hoc reviewer for 10 other scientific journals. He has authored and co-authored over 100 publications that cover the areas of tinnitus, dizziness, auditory function, outcome measures development, brain mapping and intraoperative neurophysiology. He is co-editor of the text Handbook of Balance Function Testing. He is a Fellow of the American Speech-Language Hearing Association, and a recipient of the Jerger Career Award for Research in Audiology from the American Academy of Audiology.
---
Neil Shepard is director of the Dizziness and Balance Disorders Program at Mayo Clinic – Rochester, Minnesota, and a professor of audiology in the Mayo Clinical School of Medicine. He received his undergraduate and master's training in electrical and biomedical engineering from University of Kentucky (Lexington, Kentucky) and Massachusetts Institute of Technology (Cambridge, Massachusetts). He completed his PhD in auditory electrophysiology and clinical audiology from the University of Iowa (Iowa City, Iowa) in 1979. He has specialized in clinical electrophysiology for both the auditory and vestibular systems. Activity over the last 34 years has concentrated on the clinical assessment and rehabilitation of patients with balance disorders and clinical research endeavors related to both assessment and rehabilitation.

Purchasers of this book receive complimentary access to additional materials hosted on a PluralPlus companion website.

To access the materials, log in to the website using the URL and passcode located inside the front cover of your copy of Balance Function Assessment and Management, Second Edition.