Publication
Building a Research Career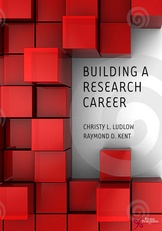 90-Day Exam Copy for Instructors
Building a Research Career
Details:

224 pages, Illustrated (B/W), Softcover, 7 x 10"
ISBN13:

978-1-59756-227-0
Release Date:

09/01/2010
Overview
Authors Ludlow and Kent have crystallized the keys to a successful career in research for research-oriented graduate students, postdoctoral fellows, biomedical and clinical investigators and faculty members at various stages of their careers. This book outlines guides to success in critical areas of a scientific career, including designing research, developing research programs, obtaining research grants, publishing in top journals, making sense of impact scores, grant writing do's and don'ts, applying for patents, and how to become a leader in a scientific field. The authors cover the As to Zs of career-building strategies toward a rewarding life in academia and science. Within each of the 11 chapters these authors share their and others' experience about how to navigate science and academia. Readers will find answers to virtually every possible important question that will play an important part at each stage in their careers.
Reviews
Liam M Flood FRCS, The Journal of Laryngology and Otology (2011):
"The title immediately suggests a relevance to only a minority of our speciality, but any trainee would do well to read this book. I was initially concerned that this book might not be applicable to a research career outside the US, but far from it. I was equally daunted to read in an opening sentence that this career is "post doctoral" and that entry level is here defined as the PhD, a stage that few of us in clinical practice attain! I am glad I stuck with it however, as there is a very good generic message, even for those of us who never contribute much more than the odd case report, the dodgy RCT, or the less than systematic review. The book starts by outlining the stages of progress through a research career, from that new PhD to the retired professor emeritus. The second chapter, on designing research, is an excellent review of methodology, in only 24 pages. It is surely all too familiar to a scientist at this stage, but it provides a nice coverage more suited to a "jobbing" surgeon or trainee. The next, brief, chapter concentrates on on-line methods of keeping up to date with the evolving literature and shows how far we have come from just reading the journals............if we choose to. A chapter on getting one's work published is particularly good on justifying authorship, ethics and Impact Factor...There is an excellent chapter on "Achieving Success in Academia", which deals with such issues as work-life balance, women in biomedical research and the value of sabbaticals and study leave. The target audience has clearly been the clinician considering a future in whole time research. The message carried is of equal value to anyone who intends to maintain any academic profile on completion of clinical training and I would highly recommend this book."

Rachael M Harrington, George Washington University, Doody's Review Service (February 2011):
"The sections on grant writing and grant processing are particularly well written and informative, and several chapters include appendixes that present practical summaries and additional resources. The authors also provide online resources. This is an interesting, easy to read book that would be useful for any student or young professional interested in pursuing a research career in the allied health fields."
Career Stages in Research and Characteristics of a Successful Scientist
Types of Research
Finding Issues and Topics for a Research Program
Writing and Publishing Scientific Papers
Membership in the Scientific Community
Good Research Practices
Writing Research Proposals and Getting Funded
Career Paths Outside Academia or Away from the Bench
Long Range Research Career Strategies
Achieving Success in Academia
Technology Transfer
References
About The Authors
Christy L. Ludlow, PhD, began her career as a speech-language pathologist before moving into clinical and basic research on speech and voice at the National Institutes of Health, where she conducted research for 35 years. She was Chief the Laryngeal and Speech Section and became a Senior Investigator in the National Institute of Neurological Disorders and Stroke conducting both basic and clinical neurophysiological studies of normal and disordered voice, speech, and swallowing. She then moved to the Department of Communication Sciences and Disorders at James Madison University, where she led the PhD program and established the Voice and Swallowing Service, a joint collaboration between the university and the Sentara RMH Hospital.
---
Raymond D. Kent, PhD, is Professor Emeritus of Communicative Disorders at the University of Wisconsin-Madison. His primary research interests include: neurogenic speech disorders in children and adults, speech development in infants and young children, procedures to assess speech intelligibility and quality, acoustic analyses of speech, and theories of speech production.