Publication
Auditory Processing Disorders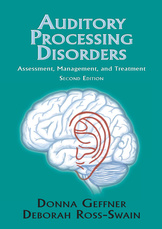 Desk Copy for Instructors
Auditory Processing Disorders
Assessment, Management and Treatment
Second Edition
Co-Editors: Donna Geffner, Deborah Ross-Swain
Details:

883 pages, Illustrated (B/W), Softcover, 7 x 10"
ISBN13:

978-1-59756-495-3
Release Date:

11/10/2012
Overview
THE THIRD EDITION WILL BE AVAILABLE IN JANUARY 2018. CLICK HERE FOR MORE INFORMATION.***

The second edition of Auditory Processing Disorders, which includes several new chapters, details the history, definition, behaviors, and co-morbidity of auditory processing disorders before educating the reader on the most current practices for audiological and speech-language assessment of APD, including its impact on literacy and language processing. Practical rehabilitation and management strategies are covered in detail. This book a highly practical book designed specifically for practicing clinicians, both audiologists and speech-language pathologists.
The book includes authors that read like a "Who's Who" in the discipline of auditory processing disorders (APD).
New to this edition:

New chapter by Frank Musiek, Gail Chermak, Teri Bellis and Jeff Weihling on the philosophical and conceptual existence of APD, defying the myth.
New chapter on Computer-Based Training Methods for Age-Related APD: Past, Present, and Future by Harry Levitt, Chris Oden, Helen Simon, Carla Noack and Al Lotze
New information from Nina Kraus and associates from the Northwestern Brain Volts lab on the value of using cABR in the diagnosis and measurement of APD in children, as well as a chapter on the effectiveness of musical training to alter that brain's engagement with sound.
New chapter by Bunnie Schuler on the use of apps in hand-held devices for treatment.
New chapter on case law from one of the nation's leading attorneys in special education, Gary Mayerson.
Updated information on the use of computer-based software programs from Larry Metwedsky.
New chapter by Leah Light on APD as a Model of a Functional Disconnection Syndrome.
Three new appendices: Tips for Parents, Tips for Teachers, and a Study Questions Answer Key

In this interview with Donna Geffner at AudiologyNOW! 2013 meeting, she discusses auditory processing disorders (APD) and how her experiences working with this patient population helped to inform the new edition of this book.

Reviews
Doody's (2016):
"Named to Doody's Core Titles in the Health Sciences 2017 list."

Blas Espinoza-Varas, Oklahoma University Health Sciences Center (2013):
"I think this a very good text, because it compiles in one volume just about all there is to know on APD; the review is exhaustive and comprehensive, which makes it an excellent teaching resource in this area, especially for upper level Audiology Doctorate students..."

Sara Angerman, University of Minnesota, International Journal of Audiology (53: 144) (2014):
"...By statistics alone, it is clear this book is comprehensive; with its 32 chapters written by 46 contributing authors across 904 pages, this text is more in-depth than most others that have been written on the topic of auditory processing. Particularly valuable is the appeal to a broad audience: audiologists and speech-language pathologists, researchers and clinicians, instructors and students, and possible even clients or parents. Clinical professionals and academics will find this book written to their level (beginner to intermediate), whereas the layperson with no prior knowledge would view this text as more advanced...This book provides a springboard for inter-professional of classroom discussion on a variety of topics...

[T]he book is well organized and clearly written...The most commendable aspect of this text, that which separates it from others on the same topic, are the 15 chapters devoted to specific treatment and intervention strategies to remediate auditory processing weakness, including a mix of technologically based and face-to-face instructional approaches. Although previous books have provided detailed overviews of this topic, this text more thoroughly highlights the impact that both audiologists and speech-language pathologists can collectively make on improving auditory skills in listeners with weak processing abilities. Auditory processing disorders is one of the spheres in which the two professions are suitably intertwined, and the fact that the editors of the books represent both the audiological and the speech-language perspective is particularly important...

[T]he practicing clinician, whether in audiology or speech-language pathology, would likely find that this book gives them more practical strategies and concepts for contemplation than any other auditory processing text on their shelf."
FOREWORD by Charles I. Berlin, PhD
PREFEACE
CONTRIBUTORS

SECTION I. IDENTIFICATION AND ASSESSMENT

1. Current Issues in the Diagnosis and Treatment of CAPD in Children
Jeffrey Weihing, Teri James Bellis, Gail D. Chermak, and Frank Musiek

2. History of Auditory Processing Disorders in Children
Jay R. Lucker

3. Central Auditory Processing Disorders: Definition, Description and Behaviors
Donna Geffner

4. Disorders and Deficits that Co-Occur or Look Like APD
Yvette N. Tazeau and Patricia McAleer Hamaguchi

5. Audiologic Assessment of (C)APD
Marni Johnson Martin, Cassandra R. Billiet, and Teri James Bellis

6. SCAN-3 An Evidence Based Diagnostic Test Battery for Auditory Processing Disorders
Robert W. Keith and Rola Farah

7. cABR: A Biological Probe of Auditory Processing
Nina Kraus and Jane Hornickel

8. Auditory Processing in Individuals with Auditory Neuropathy Spectrum Disorder
Gary Rance

9. Differentiating ANSD from CAPD
Thierry Morlet, L. Ashleigh Greenwood, and Charles I. Berlin

10. Temporal Processing in the Auditory System
Vishakha Waman Rawool

11. The Speech-Language Pathologist's Role in the Assessment of Auditory Processing Skills
Deborah Ross-Swain

12. Language Processing versus Auditory Processing
Gail J. Richard

13. Auditory Processing Disorders and Literacy
Martha S. Burns

14. APD as a Model of a Functional Disconnection Syndrome
Leah Light

SECTION II. MANAGEMENT

15. The ABCs of CAP: Practical Strategies for Enhancing Central Auditory Processing and Related Skills
Jeanne M. Ferre

16. Management Strategies
Donna Geffner

17. Challenges and Strategies for Parenting the Child with Auditory Processing Disorder
Dorothy A. Kelly

SECTION III. EVIDENCE BASED TREATMENT AND INTERVENTION

18. Phonemic Training and Phonemic Synthesis Programs
Jack Katz

19. Metacognitive Therapy Approaches
Patricia McAleer Hamaguchi

20. Dichotic Interaural Intensity Difference (DIID) Training
Jeffrey A. Weihing and Frank E. Musiek

21. Metalinguistic Skills, Strategies, and Approaches
Jane A. Baran

22. Management of Auditory Processing Disorder for School-aged Children: Applying the ICF (International Classification of Functioning, Disability and Health) Framework
Mridula Sharma and Suzanne Purdy

23. Lindamood-Bell® Instruction: Dual Coding with Imagery and Verbal Processing for Language and Literacy Skills
Nanci Bell

24. The Utilization of Computer Software as a Management Tool for Addressing CAPD
Larry Medwetsky

25. Applicable Applications: Treatment and Technology with Practical, Efficent, and Affordable Solutions
Bunnie Schuler

26. Application of Neuroscience to Remediation of Auditory
Processing, Phonological, Language and Reading Disorders:
The Fast ForWord and BrainPro Programs
Martha S. Burns

27. Meaningful experience with sound for strengthening communication skills
Nina Kraus and Jane Hornickel

28. Use of Medication with Auditory Processing Disorders
Kim L. Tillery

29. Multimodality Intervention for CAPD
Deborah Ross-Swain, Al Guerra, Rachael Little and Richard Abbey, Jill Stowell, Ron Minson and Andrea Pointer

30. Computer-Based Training Methods for Age-Related APD: Past, Present, and Future
Harry Levitt, Chris Oden, Helen Simon, Carla Noack and Al Lotze

31. The Legal Considerations Associated with Auditory Processing Disorders
Gary S. Mayerson

32. Educational Implications
Rhandee Lipp


Appendix A: Web References and Resources
Donna Geffner

Appendix B: Auditory Processing Disorder: Tips for Parents
Donna Geffner and Deborah Ross-Swain

Appendix C: Auditory Processing Disorder: Tips for Teachers
Deborah Ross-Swain and Donna Geffner

Appendix D. Study Questions Answer Key

Index