Publication
Assessment of Communication Disorders (Adults and Children Bundle)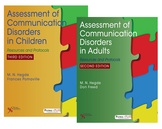 Desk Copy for Instructors
Assessment of Communication Disorders (Adults and Children Bundle)
Details:

Illustrated (B/W), Softcover, 8.5 x 11" 2 lbs
Release Date:

12/30/2016
$186.91
Overview
These two textbooks offer a unique combination of scholarly information, invaluable resources, and time-saving protocols on assessment of communication disorders in children and adults.
Most resource books offer limited research and scholarly information, thus making them unsuitable as textbooks for academic courses on assessment and diagnosis. Similarly, most traditional textbooks do not include practical, easy-to-use, and time-saving resources and protocols that the practicing clinicians can readily use during assessment sessions. By combining the strengths of traditional textbooks with newer assessment resources and protocols, these texts offer a single, comprehensive source that is suitable for courses on assessment and useful as practical clinical resources.
Key Features of both textbooks:
Covers the full range of communication disorders across the lifespan
Addresses the multicultural issues in assessing communication disorders in children and adults and integrates multicultural assessment procedures into the assessment protocols offered for all communication disorders
Contains two chapters for each disorder: one on resources that offers scholarly and research background on the disorder and one on resources that describe practical procedures and protocols
All Resources chapters reflect current research and assessment principles and procedures
Updated listings and descriptions of published, standardized tests that are commonly used in the assessment of communication disorders in children and adults are provided
Revisions of several assessment procedures and protocols, based on recent research, are included
Each chapter contains a summary and sample study questions
Access to PluralPlus companion website available for both books
About The Authors
A speech-language pathologist for over 20 years, Frances Pomaville, PhD, is an Assistant Professor in the Communicative Disorders and Deaf Studies Department at California State University, Fresno. She teaches undergraduate and graduate level courses in the areas of diagnostic procedures, anatomy and physiology, fluency, voice, traumatic brain injury, and dysphagia. She also supervises graduate students in their clinical practicum.
---
M.N. Hegde, PhD, is Professor Emeritus of Speech-Language Pathology in the Department of Communicative Disorders at California State University, Fresno. A highly regarded author in speech-language pathology, his books include leading texts in academic courses and valuable resources for clinicians. His books have been used in worldwide in speech-language pathology programs.