Publication
Autism: Attacking Social Interaction Problems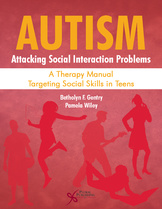 Autism: Attacking Social Interaction Problems
A Therapy Manual Targeting Social Skills in Teens
Co-Authors: Betholyn F. Gentry, Pamela Wiley
Details:

176 pages, Illustrated (B/W), Softcover, 8.5 x 11"
ISBN13:

978-1-59756-785-5
Release Date:

09/30/2015
$49.95
Overview
Autism: Attacking Social Interaction Problems: A Therapy Manual Targeting Social Skills in Teens is designed specifically for individuals 13-16 years of age and includes ten chapters with three lessons in each chapter. The lessons included were selected by the authors who have more than twenty-five years of experience working with individuals with autism spectrum disorder (ASD). Topics were suggested by teens with ASD and their parents. The lessons are filled with fun and age-appropriate activities that incorporate current issues facing teens today such as peer pressure, joining in, honesty, self-esteem, dealing with bullies, and social media. The activities utilize games, worksheets, role-play skits and discussion questions, and can be used in social skills groups.
The AASIP program provides a comprehensive yet practical approach to teaching social communication skills across the life span to individuals with moderate to high functioning autism spectrum disorder and other disorders that result in social communication deficits. Participants will enjoy engaging with their peers as they learn how to become social communicators and build their confidence.
The AASIP program offers three additional books for children ages 4-9, 10-12, and a pre-vocational training manual for individuals 17 years to adulthood.
Autism: Attacking Social Interaction Problems: A Therapy Manual Targeting Social Skills in Children 4-9
Autism: Attacking Social Interaction Problems: A Therapy Manual Targeting Social Skills in Children 10-12
Autism: Attacking Social Interaction Problems: A Pre-Vocational Training Manual for Ages 17+
Preface
Acknowledgments
Chapter 1. Introduction
Chapter 2. Getting Started: Creating a Program
Chapter 3. Weekly Rituals
Chapter 4. Just Do It: Initiating Conversations
Lesson 1: Initiating Conversations to Make Friends
Lesson 2: Initiating Conversations to Get Information
Lesson 3: Initiating Conversations with the Opposite Sex

Chapter 5. Take the Plunge: Joining In
Lesson 1: Joining a Group of Friends
Lesson 2: Joining a Group of Unfamiliar Teens
Lesson 3: Joining an Activity at School

Chapter 6. Truth or Consequences: Honesty
Lesson 1: Being Honest in What You Say
Lesson 2: Being Honest in What You Do
Lesson 3: Being Honest with Yourself

Chapter 7. I'm OK, You're OK: Self-Esteem
Lesson 1: Setting Personal Goals to Develop Self-Esteem
Lesson 2: Personal Successes
Lesson 3: Believe in Yourself

Chapter 8. Reinventing Yourself: Coping with Change
Lesson 1: Accepting Change
Lesson 2: Trying New Things
Lesson 3: Surprises

Chapter 9. All Linked Up: Dealing with Social Media
Lesson 1: Online Conversations
Lesson 2: Facebook, Twitter, Instagram Accounts
Lesson 3: Online Dangers

Chapter 10. Secret Meanings: Unwritten Rules of Everyday Living
Lesson 1: Unwritten Rules in the Community
Lesson 2: Unwritten Rules in School
Lesson 3: Unwritten Social Rules

Chapter 11. Standing Up for Yourself: Dealing with Bullies
Lesson 1: Cyber Bullying
Lesson 2: Verbal Bullying
Lesson 3: Physical Bullying

Chapter 12. A Mind of Your Own: Peer Pressure
Lesson 1: Distinguishing Positive and Negative Peer Pressure
Lesson 2: When Under Pressure, Gauge the Consequences
Lesson 3: Making a Plan to Deal with Negative Peer Pressure

Chapter 13. Good Health: Good Personal Hygiene
Lesson 1: Smells Can Repel Friends
Lesson 2: Personal Appearance Matters
Lesson 3: Poor Hygiene and Poor Health

Appendix A. Sample Data Tracking Form 1
Appendix B. Sample Data Tracking Form 2
References