Publication
Augmentative and Alternative Communication in Acute and Critical Care Settings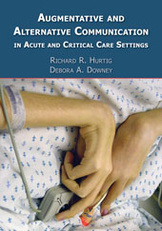 90-Day Exam Copy for Instructors
Augmentative and Alternative Communication in Acute and Critical Care Settings
Details:

224 pages, Illustrated (B/W), Softcover, 7 x 10"
Included Media:

DVD
ISBN13:

978-1-59756-079-5
Release Date:

11/01/2008
Overview
A practical text on the implementation of Augmentative and Alternative Communication/Assistive Technology in hospital venues, AAC/AT in Acute Care Settings, reviews the more traditional use of AAC and expands it into the acute and critical care arenas.
It is a "how to handbook" filled with protocols, realistic solutions for implementation across hospital units and rich case examples that provide validation of the efficacy of AAC with the acute care population. This text is an ideal resource for speech-language pathologist considering expanding their hospital practice to include patients who experience temporary or permanent loss of oral language due to trauma, neurological changes or surgical interventions.
Review
Preface
Chapter 1: History of AAC
Defining AAC
A Brief History of AAC
How Technology Has Impacted AAC
Etiologies That May Benefit from AAC
ASHA's Stand on AAC
Chapter 2: Challenges
Access Challenges
Opportunity Challenges
Chapter 3: The Impact of Assistive Technology (AT) in Acute Care Settings
Review of AAC in Acute Care Settings
Chapter 4: Assessment Protocol
Videos for This Chapter
Chapter 5: Switches as the First Step to Establishing Communication
Nurse Call: Alternatives and Modifications
Standard Switches
Advanced Technology Switches
Iowa Smart Switch
Chapter 6: Iowa AAC Templates
One Button Template
Two-Three Button Templates
Grid Pattern Button Templates
Simple Buttons with Links Template
The Iowa Template

Top Level Menu Page
Feelings Pop-Up Page
Pain Pop-Up Page
Entertainment Pop-Up Page
Chat Menu Page
Medical Questions Pop-Up
Jokes Pop-Up
Room-Control ECU Pop-Up
Bed Control Pop-Up
TV Control Pop-Up
Help Pop-Up
Personal Pop-Up
Novel Message Generation
Rate Enhancement Strategies

Chapter 7: Mounting and Access Issues

Device Mounting Solutions
Hand-Held Implementations
Bed Tray Implementations
Bed Rail Implementations
IV Pole Implementations
Switch Adaptation and Mounting Solutions
Adapting Switches
Mounting Strategies
Videos Associated with This Chapter

Chapter 8: Pain Management
Chapter 9: Environmental Control Units (ECU)
Chapter 10: Bad News-Communication Issues
Chapter 11: Cases
A: Solving the Language Barrier
B: Maintaining a Personal Voice - Adding Humor
C: Don't Assume Full Understanding
D: Don't Assume Too Little Understanding/Be Prepared for Surprises
E: Voicing Anger Case
F: Codependency
G: Failure All Around
H: Against-All-Odds: Success
Chapter 12: Setting Up and Funding an AAC/Assistive Technology Service
Current State of Affairs
Organization of an AT Service
Staffing
Equipment
Training

Assessing Staff Needs
In Service Training
Competency Assessment
Funding Issues

Chapter 13: Useful Products and Links
The MacGyver Kit: Essential Tools and Materials
AAC Manufacturer Links
AAC Resource Links
Appendix A: Assessment Scenarios
Appendix B: Major AAC Manufacturers
Appendix C: AAC/AT Resources
References
Index

DVD Contents:
Figures
Video Clips
Nursing Tutorial
Iowa Hospital Boards (Word, PDF)
Iowa Low-Tech Hospital Boards (BoardMaker Files)
Iowa Low-Tech Keyboards (BoardMaker Files)
Iowa Templates for:

DYNAVOX Users (English, Spanish, Eye Gaze)
Speaking Dynamically Pro
SDP (Eye Gaze)
VIKING Software
VIKING Software (Eye Gaze)
PRENTKE-ROMICH ECO Software
About The Authors
Richard Hurtig, PhD, is Professor and Chair in the Department of Communication Sciences and Disorders at University of Iowa.
---
Debora A. Downey, MA, CCC-SLP, is a Parent Coordinator of the Center for Disabilities and Development, University of Iowa
Related Titles

320 pages, Illustrated (B/W), Softcover, 7 x 10"